We are proud to announce that Pass the Keys has just launched a new franchise right here in Bristol. We want to take this opportunity to meet the owner of this new franchise, George Martin. Pass the Keys is an AirBNB management company that helps property owners to maximise their rental income. Today, we want to introduce the owner of the Bristol area Pass the Keys, helping you learn more about who he is. That's why he's here to introduce himself.
Hi! My name is George, and I was born in the UK, but I'm also half Canadian. I have been working in the property industry for over twelve years, where I have invested in property, property development, and both setting up and running multiple properties on AirBNB. I look forward to this new adventure of helping others manage their properties and renting them out on a short-term basis for the holiday and business traveller's market.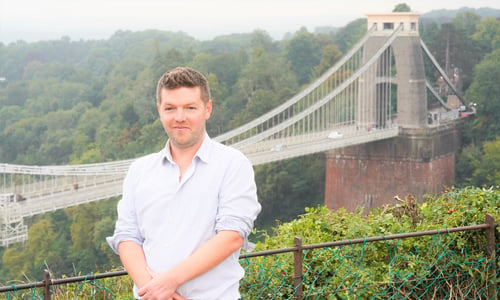 Here is an interview with George so that you can learn more about this latest franchise owner.
Tells Us More About Yourself
Of course! As you already know my name is George and I'm in charge of Pass the Keys Bristol. I have long held a strong passion for property, which started at a young age. This passion started when I was trying to help my parents with their DIY projects as a child. From there, my passion grew as I began working in the property sector. This is where I began investing in properties, property development, and both setting up and running multiple properties of my own on AirBNB. Now, I strive to help others manage their properties, renting them out on a short-term basis for the holiday and business traveller markets. I love living in Bristol, especially exploring the nearby countryside while on walks or riding my bike. If you need help managing your property in Bristol on AirBNB and any other bookings platforms, contact me today so that we can have a chat about what you need.
What Inspired You to Want to Launch Your Pass the Keys Bristol Business?
There are two reasons why I wanted to start this venture with Pass the Keys. First of all, I am very passionate about property. Another reason is that by joining up with Pass the Keys, I can take our combined wealth of knowledge to offer the best returns for hosts while also getting the support and backup of their central office.
What Makes Bristol a Good Place for Short-Letting on Platforms Like AirBNB?
It's a great idea to visit Bristol because there are so many different things that you can do here in Bristol. For one thing, they hold events like the Balloon Festival, which makes this an ideal location for a holiday trip. There are plenty of things to do including:
Brunel's SS Great Britain Museum

Clifton Suspension Bridge

Wills Memorial Building

Cabot Tower

Bristol City Docks

Bristol Cathedral

Blaise Hamlet

The Georgian House Museum

The Red Lodge Museum

Bristol Museum and Art Gallery

Bristol Zoo

Clifton Observatory

Castle Park

The Wave
Why Does Bristol Need a Short-Let Management Company Like Pass the Keys?
Bristol needs a short-let management company like Pass the Keys because I feel like this was a need that wasn't fulfilled currently in this area. The biggest reason is that with a company like Pass the Keys, you can get the largest possible financial return without the stress and hassle that you would normally deal with without a company like them. Pass the Keys offers the area industry expertise, technology, and essential systems as well as hard work and local knowledge, making it an excellent choice for people who want to rent out their property.
What Are Your Top Tips for Homeowners Short-Letting Their Property on Sites like AirBNB in Bristol?
If you want to put your property up on sites like AirBNB, you need to find a way to make your property stand out. By following the tips in this section, you can get better results from short-letting your property.
One of the most important things that you need to remember is that quality photographs can significantly impact your success with short-letting your property. The pictures need to be high quality and inviting, inspiring potential guests to choose your property. It can be a worthwhile investment to have a professional photographer, as this will guarantee that you get pictures that will help your property sell itself.
Buy a good quality coffee machine for your property! Guests love a good coffee.
It's also important to leave a good first impression. Friendliness is important because this will not only get people to short-term let your property in the first place, but will also keep them coming back again. They will even tell their friends what a positive experience they had staying at your property.
A clean property is something that matters because potential customers are very likely to leave the property a bad review if it is dirty. Pass the Keys offers professional cleaning services to ensure that the property always looks great. This attention to detail is something that can really help you stand out from other short-term let properties in Bristol.
It all comes down to having the right partner on your side to help you get the most out of your property investments. That's why one of the best tips we can offer is to trust Pass the Keys to help you manage your properties.
Conclusion
If you have a property in Bristol and are interested to find out how much you could earn as a short-let host through Airbnb, give Pass the Keys Bristol a call on 01174630019. You can also visit our website and get a quote on how much your property could earn through short-letting. Simply visit https://www.passthekeys.co.uk/bristol/