Last month we had our first post in our Trivago Industry Insights series, looking at how you sell your property to guests stravelling to Scotland This week we discuss some travelling trends in the region of Greater London. This short guide based on trivago's Industry Insights Webinar will show you how you can market your property in Greater London and who visits the area most frequently. When understanding the behaviours and patterns of these travellers, you can accommodate them better and understand their needs.
Hosted by trivago's UK Industry Manager, Lenka Trckova, the webinar is interesting if you would like to learn more about how to boost your ranking and increase your visibility online.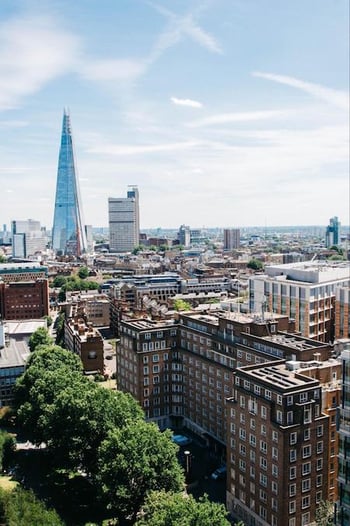 Where do travellers to Greater London come from?
Inbound traffic makes up the largest majority of visitors to the capital, at 57%. Of all international travellers coming to the UK, 30% search for destinations in Greater London. This clearly shows that London is an important hub for travellers, not only within the UK but abroad too. This isn't too surprising as London is the capital city and there is a lot to see and do.
The type of guest that stays in your property is just as important, if not more as this gives us more information on how to accommodate them and provide them with essential amenities so they have a comfortable stay.
The largest group of guests to the capital are weekend travellers, at 47%. This is not unexpected as London can be easily accessed by train from other large cities in the UK, and also from Europe.
Closely behind are the group of business travellers, who make up 44% of travellers to Greater London. These guests are in the city for work-related reasons, and so will require a place where they can work comfortably (i.e. desk space), free WiFi, and will most likely require a fully equipped kitchen with a dishwasher or a coffee machine, for example.
9% of travellers who visit the city are holiday-makers/vacationers who have planned their trip for months, are usually made up of families and require a spacious place with a fully equipped kitchen, a family-friendly environment, and easy access to transport links. Vacationers typically will spend more than six nights in your property, so having a kitchen with a washing machine and a space with extra storage will definitely boost your property's ranking. These guests will also spend the most money per night and capture the highest average total basket value per stay.
Where are the most popular destinations in Greater London?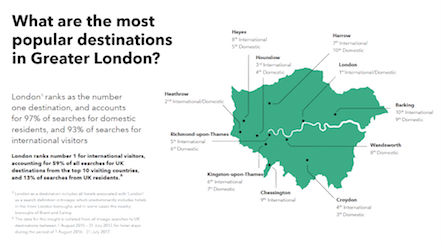 It is no surprise that the number one most popular destination for international and domestic travellers is Inner London; it accounts for 97% of searches for domestic travellers and 93% of searches for international travellers.
The second most popular (domestic & international) is Heathrow, and the third most popular (international) is Hounslow, and Croydon (domestic). Although it is not surprising that Inner London is the most popular destination, it does seem surprising that Heathrow, Hounslow and Croydon are the second and third. The reasons behind this may be due to the government development of these areas.
You might think that you need extra expertise in this area, with property management company, Pass The Keys, your occupancy rates can reach 70%, your prices can be optimised, and your guest support can be monitored 24 hours a day. If you would like to short-let your property hassle-free, then see how much you could earn.