Are you a holiday let owner based in the Peak District looking to increase your bookings, enhance your property management, and save precious time?
We can help you out.
We are Matt and Kerry, we fell in love with the Peak District and have enjoyed the area for both business and pleasure for most of our lives. It's a place we are genuinely passionate about sharing with others.
Here are the top reasons why you should choose us to help you manage your short-let property in Peak District:
1. Our combined experience
We have expertise in business consultancy and the short-term rental and property industry. Additionally, Kerry holds significant experience as an Operations Director.
Matt will be your main point of contact. As an experienced business consultant, he has helped start-ups and small businesses launch and grow. In recent years he has established a property business in Bulgaria, helping customers with an end-to-end service, allowing them to invest in the Bulgarian property market and build their own property and land portfolio.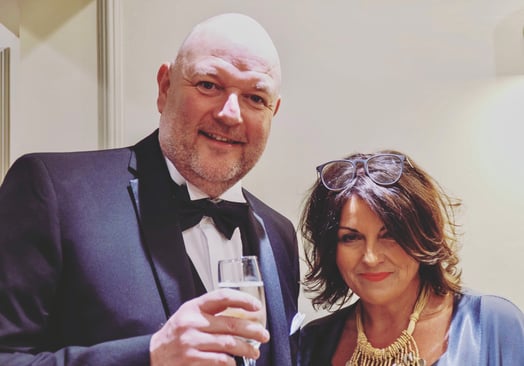 2. We provide local knowledge and support
Most recently, together, we successfully launched and managed our own Peak District holiday cottage. With this expertise, we have joined forces with Pass the Keys to provide coverage for the Peak District region. Our extensive knowledge of the area and direct experience in overcoming challenges as property owners allow us to offer unique insights and value to our partnership. We have first-hand experience of the challenges owners face in this area.
3. How our fully managed service can help your holiday home reach its true potential
Our services encompass a range of benefits; we can maximise your property's occupancy rates, provide guests with valuable guidance and recommendations to enhance their experience of the area and support you in minimising the challenges associated with property management. With our assistance, you can expect to maximise the potential of your property with minimal hassle.
4. We offer end-to-end property management
At Pass the Keys, we care for all aspects of your rental management, from enhancing your listing to communicating with your guests. Our comprehensive hospitality management package includes a range of services, such as listing your property on more than 20 platforms, including Airbnb and Booking.com. We also manage bookings, vet guests, facilitate remote check-ins, provide 24/7 guest support, and furnish your guests with hotel-quality toiletries. Additionally, we ensure your property is professionally cleaned and laundered after each check-out.
Our team of skilled copywriters, talented photographers, and exceptional housekeeping crews work together to ensure your property stands out from the competition. Our pricing specialists also ensure that we balance offering excellent value and generating impressive revenue for you.
5. Low onboarding fee
At Pass the Keys, "Onboarding" is the term we use to refer to the process of preparing your property for hosting. You are provided with an online checklist to work through independently. However, if you encounter any challenges during the process, we are always available to offer assistance and help you move forward.
Our initial onboarding fee covers your professional photos and key box.
6. Professional photography
At Pass the Keys, we only use professional photographers. As part of the onboarding process, we will arrange a suitable time to take photographs of your property. High-quality photos are crucial to success on any short-letting platform, so we take this part very seriously.
We offer a 3-month rolling contract
There are no longer ties to our services; unlike other property management companies, we offer a 3-month rolling contract. You can cancel our service at any time. We don't believe in long-term contracts or hidden fees.
7. You will have full access to a client portal app
Once you hire Pass the Keys to manage your property, you can monitor your accommodation effortlessly through the client portal. Keep track of occupancy rates, earnings, upcoming bookings, reviews, and blocked dates, and view updated photos of your property after every cleaning. With this portal, you can stay informed about the condition of your holiday let. We provide full transparency on how we work to achieve your goals.
8. 24/7 Guest support team
Our commitment to delivering an exceptional guest experience begins with the first enquiry. We offer round-the-clock guest support, a smooth check-in process, and always prioritise clear and efficient communication to ensure your guests are well taken care of throughout their stay, and we are available 24/7 to reply to all the urgent needs of the guests.
9. Property safety
While it's impossible to eliminate all risks in renting your property, Pass the Keys goes above and beyond the standard security measures provided by short-letting platforms. For example, we thoroughly screen all guests and have a policy against accepting 2-night bookings on weekends, significantly reducing the chances of parties occurring. Additionally, we offer extra Guardhog insurance coverage as part of our service for full-time clients, ensuring you're protected in case of any issues.
What will happen after I sign up with you?
Once you sign up, the onboarding process begins. This process entails preparing your property for letting. We'll arrange professional photography, organise an initial clean, and install a key box. We take the time to familiarise ourselves with the unique aspects of your property to troubleshoot any issues that may arise effectively. Typically, onboarding takes around 14 days, but we have completed the process in as little as a day for clients in a hurry!
Why choose us?
Managing a short-let property on your own can require up to 40 hours of work per month for beginners. With Pass the Keys, we take care of all the work on your behalf for a percentage of the booking revenue. This often makes financial sense for many property owners. Additionally, as professional co-hosts for Airbnb with specialised in-house departments, we can often increase your gross booking value beyond our fees. Therefore, our hosts frequently come out ahead financially while also enjoying the convenience of not having to do any of the work themselves.
Don't hesitate to get in touch with us today
If you're based in the Peak District and want to generate maximum income from your property while maintaining the highest level of safety, our service is the perfect fit for you. Whether you wish to increase rental income or are a frequent traveller seeking more time to spend away, we can help you.
We look forward to working with you!
- Matt & Kerry