According to the Staycation Market Report 2021, 53% of British holidaymakers surveyed said they intend to holiday in the UK in 2022. From city breaks, long weekends away and traditional family holidays... more than half of Brits are opting for UK staycations this year.
There was a collective holding of breath amongst the UK short-let industry as property hosts up and down the country waited to see if the staycation culture of 2020 and 2021 would return, bringing another year of unprecedented occupancy rates and return bookings. With restrictions easing up, there was every likelihood that some holidaymakers would be rushing to book their breaks abroad. However... it seems that a has been a significant change in mindset as more than half of Brits plan to holiday on home turf rather than abroad in 2022.
That's great news indeed for holiday home and Airbnb hosts up and down the country, who have enjoyed unprecedented bookings thanks to the uncertainties of international travel during the last two years. Of course, there are a variety of benefits in choosing to holiday in the UK, from reducing carbon emissions, removing the hassle of travelling abroad and supporting local tourism.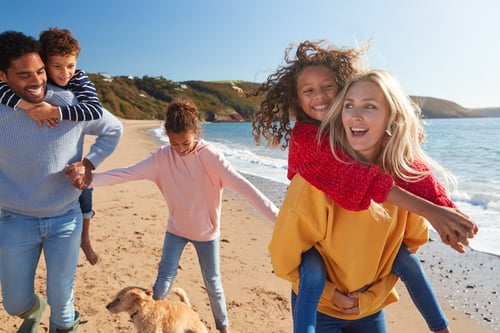 A Growing Trend
With no option other than to holiday within the British Isles in recent years, it seems that we have acquired a taste for exploring good old Blighty and that appetite is set to remain in 2022 and likely beyond.
Many of us are continuing to book city breaks and long weekends away in the UK, whereas previously these short breaks would likely have involved a continental flight.
What Does This Mean For Second Homeowners in the UK?
If the pandemic has proven anything, it's that the short-letting market is extremely robust, and is one of few industries that has actually thrived under the turbulence of the pandemic. As more and more Brits discover the benefits of a UK staycation, there is an ever-growing demand for property to rent on a short-let basis.
If you have a property in the UK, whether that be a townhouse, 6-bed country retreat, city apartment or your holiday home and are thinking about renting, then why not give it a go?
Whether you're a long letting veteran, have dipped your toes into the world of Airbnb or have never rented before, we can help your property maximise its income and reduce your workload.
It is true that short letting is notoriously more of a hassle than long term letting but this is where Pass the Keys® come in. We are market experts, Airbnb's only Professional UK Cohost and have been at the cutting edge of the short-let industry since 2014.
Our job is to remove the hassle of short letting from your hands, so you can sit back and enjoy the benefits...
Worried about finding a quality cleaner after every booking? - We'll sort it!
Unsure about how to market your property online to get the most interest? - Leave it with us!
Sick of being called out by guests in the middle of the night? - We've got you covered!
---
Pass the Keys have branches in 55 locations across the UK, to find yours, head to www.passthekeys.co.uk or call us directly on 0208 050 2818 to discuss your needs.