Selling your property can be an incredibly stressful process. With so much to think about, it may be comforting to know that short-letting is a viable solution to some of the problems associated with buying and selling a house. But what are these issues? And why is short-letting the answer?
Selling can take a very long time
Over the past year, the average time it takes to sell a UK property has increased by almost a week to 102 days, leaving a longer period during which homeowners are often left with a vacant property and juggling bills. Properties in London and Belfast take particularly long to sell, 126 days and 111 days respectively. Newcastle is also high up on the list, with properties in this North-eastern city taking an average of 106 days to sell, that's equivalent to over 15 weeks.
Of course, there are many factors that affect the time it takes to sell a house. Age, condition, the local market, the economy, the uncertainty of Brexit and interest rates all play a role in determining how long your property will be on the market.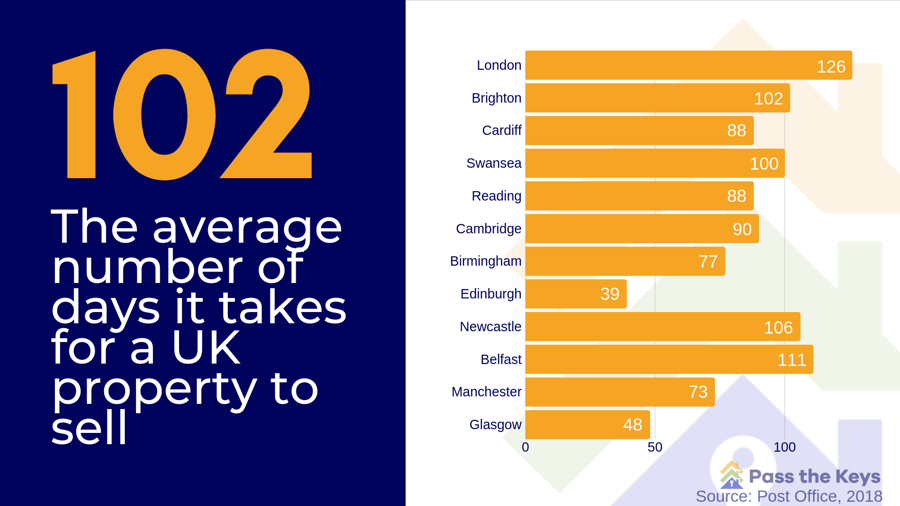 The cost of sale is high
Selling your property is not cheap either. According to Lloyds Bank, the average cost of moving home last year was £12,110, almost £500 more expensive than the previous year. Estate agency fees make up the majority of the cost at £5729 on average, followed by stamp duty at £3262. Estate agency fees depend largely on the value of your house, in fact, according to Which?, you can expect to pay between 1-2% of your property's sale price. Even in Northern Ireland and Scotland where the cost of moving home is the smallest, you can still expect to fork out over £6000 in total.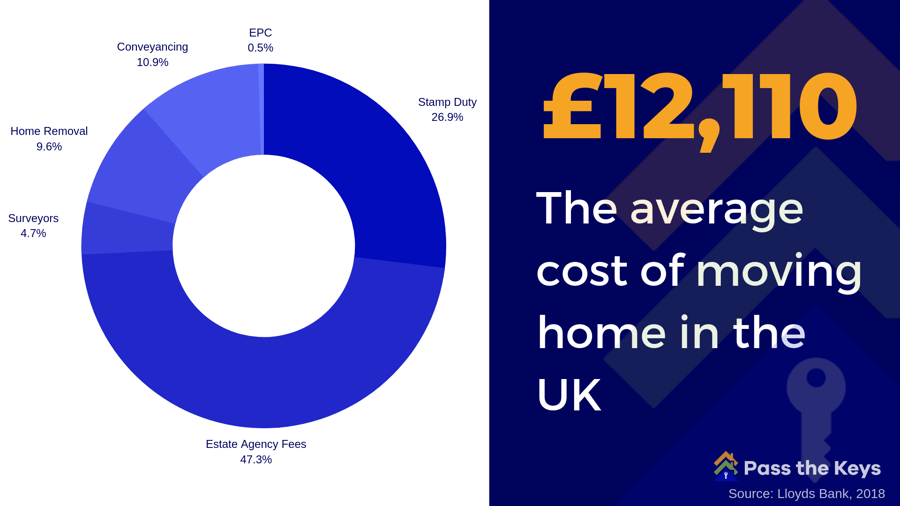 How short-letting can help?
Short-letting your property can be a good way of earning some extra income to offset these costs. Of course, how much you offset them by depends greatly on your property's location, size, spec, availability, etc. We have an income calculator on our site at www.passthekeys.co.uk, but as a general indicator, short-letting can earn you up to 50% more than long-term letting. To get the most accurate quote of how much you can earn, you can book a call with our host advisors using this link.
Short-letting is particularly useful when it comes to selling your house because of its flexibility. You can fill the property with rent-paying guests while the transaction is happening, and then stop when you're ready! If the sale takes 100 days and you have an average price of £100 per night, that is £10,000 in net booking value.
To find out more about how you can short-let your property with Pass the Keys, book a call with us now via this link. Alternatively, you can always give us a call on +44 208 050 2818.

Infographic embed codes:
<p><strong>Please include attribution to https://www.passthekeys.co.uk/ with this graphic.</strong><br /><br /><a href='https://blog.passthekeys.co.uk/selling-your-property'><img src='https://cdn2.hubspot.net/hubfs/2482509/Time%20to%20sell%20house%20uk%20Infographic%20(4).png' alt='Time it takes to sell UK house infographic' width='900px' border='0' /></a></p>
<p><strong>Please include attribution to https://www.passthekeys.co.uk/ with this graphic.</strong><br /><br /><a href='https://blog.passthekeys.co.uk/selling-your-property'><img src='https://cdn2.hubspot.net/hubfs/2482509/Cost%20of%20moving%20home.png' alt='Costs of moving house UK infographic' width='900px' border='0' /></a></p>