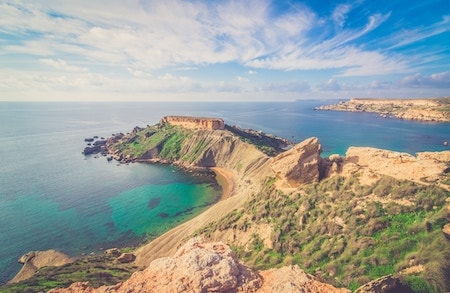 Beautiful Mediterranean beaches, long warm days - for those golden-yeared UK residents ready for an adventure, Malta may be the perfect place to retire abroad. Skip the cold London weather and the dark Glasgow days for paradise right here in Europe.
Where to Live
Malta offers a variety of locations that can suit any of its inhabitants. Most of the expats on the Mediterranean island live in the harbour area. This area includes towns, Sliema and St. Julian's. Sliema and St. Julian's are both extremely livable for foreign retirees looking for a bit of home. They are abundant with many international companies, including a variety of shops, restaurants, and services.
Directly across the bay from Sliema is Malta's capital, Valletta. The capital offers great history as an UNESCO World Heritage Site, the perfect place for anyone who likes the bustle of a tourist-heavy location. For those looking to get away from the bustle, the southern beach towns may be the perfect homebase. The tranquil oases offer quieter days and more affordable accommodation.
You Will Not Be Alone
Do not worry about feeling isolated! Malta's international community is huge. With many of its members hailing from English-speaking countries, foreign retirees can easily find their place in Malta. Alternatively, if new residents find it difficult to find their community, Malta offers the chance to join multiple expat groups, including, InterNations, 246 Expat Malta, and Malta Social. These groups can facilitate personal connections by hosting weekly coffee morning meet-ups and other fun events.
Unlike many other retirement destinations abroad, Malta is English-speaking. This means there is no other language foreign retirees must to learn to comfortably live abroad on the Mediterranean island. For those with an ambitious spirit, learning Malta's second official language, Maltese, could be an interesting goal, but by no means is this necessary. All signs and official documents are in English, and most of the people speak English well. Not having to learn another language when moving to Malta, can make anyone's transition to island life significantly smoother.
Cost of Living / Real Estate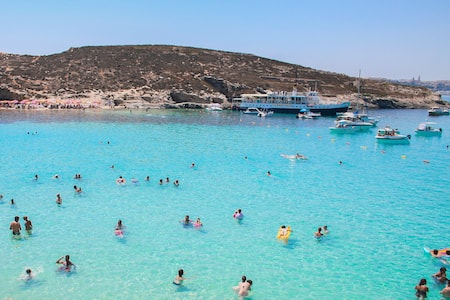 Living in Malta can be extremely affordable. For some, living expenses for a month can be as little as £1,800. Of course, depending on the location, expenses will vary. For a one-bedroom apartment, a short walk to the seaside, the average monthly rent can be £550 to £575. Groceries are also inexpensive. Basic items such as bread cost around 25 pence, while dinner out for two at a nice mid-range restaurant, including a glass of wine, can cost about £35.
Healthcare
Healthcare in Malta is world-class. It is currently ranked 5th among more than 100 countries by the World Health Organization for overall healthcare services. Malta has a strong public healthcare system, which provides free services to all Maltese citizens and European Union residents with a European Health Insurance Card (EHIC). Private healthcare is also offered on Malta with two private hospitals on the main island that offer a broad range of services, from blood tests to diagnostic scans to complex surgery. Although Malta is a small island, its robust healthcare services ensure foreign retirees stay healthy and happy during their adventurous golden years.
How to Do It
Property investment continues to be the UK's most popular option for saving for retirement. If professionals start early and gradually build their property portfolios, this option can be highly lucrative - a great way to save for a retirement abroad. But instead of selling, hire a property management company to take care of the day to day maintenance and leasing to continue to earn a steady income while living abroad.
If you have not invested in property, opt out of selling your family home before moving and put your house on the short-let market. Short letting on Airbnb and other home-sharing sites can be more lucrative than tradition long-term letting. So you can maintain a carefree lifestyle abroad, have an Airbnb management company handle your listings and bookings. Don't rely solely on your pension and live the retired life you have always dreamed of by earning an income from your UK home.