Editor's Note: This post has been updated on June 28th, 2018 after the release of new data to ensure continued accuracy and comprehensiveness.
As rental prices start declining, landlords may now be questioning how they can continue making the most money out of their rental properties.
Rental prices for London tenants have decreased by 0.2%, the first time they've fallen over the year since September 2010, with rental prices for the rest of the UK rising only by 1% in the last 12 months. In the private sector, rental prices rose by 1% in the 12 months to April 2018, a decrease from the 1.1% increase recorded in March 2018, according to the Office for National Statistics (ONS) index posted on 13th June 2018.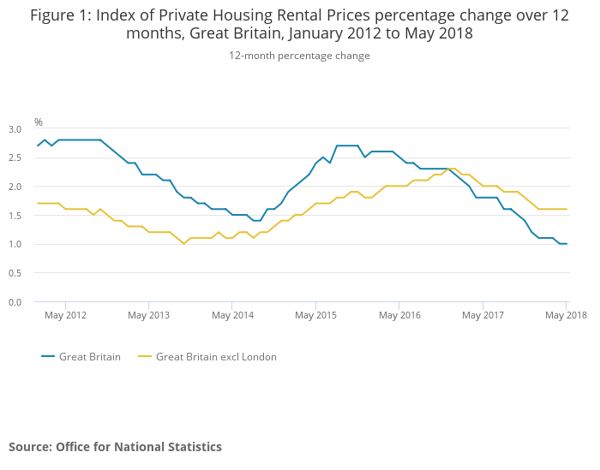 In short, the growth of the rental property industry across the UK has slowed to a halt, with areas such as London facing negative growth. Previous practices of relying on long-term letting may now even harm landlords if they are unable to adapt to the changing economic conditions. The ONS index has also indicated that the growth in rent across the UK has slowed down since the end of 2015 - mainly driven by slowdowns from London's rental properties.
Learn more about travel trends in London that might affect your property rental.
As London rental prices decline, it can be difficult to see how landlords can continue making a profit in the current economic climate. It is important to note, however, that most of these rental prices come from long term letting, not short letting.
Unsure of the differences? We've written a short article comparing the two types of letting.
Moving from long term letting to a more short term option allows landlords to increase their nightly prices whenever they want. Essentially, having a short term rental in London allows property owners to adjust their nightly fees to account for changing demand. For instance, during high season (i.e. the Summer months), weekends, and popular events, landlords will be able to charge higher rates than usual.
To make dynamic pricing as easy as possible for you, property management companies such as Pass the Keys have dedicated finance teams to monitor demand and pricing, allowing you to maximise your revenue from your properties.
Pass the Keys also has a dedicated London City Manager to oversee your rental property in the short term market. Our city managers are dedicated individuals who understand the changing dynamics of their respective cities and have first hand experience in the short term lettings industry.
Learn more about the services that Pass the Keys can provide you.