Meet our newest partners Danielle & Oliver!
Now expanding into the Peak District, Pass the Keys, the UK's leading short let property management service, is now offering its services to homeowners to help make the management of their holiday homes efficient and hassle-free.
Since Pass the Keys was founded in 2015, the company has worked with hundreds of property owners across the UK through sites such as Airbnb and Booking.com to host thousands of international and domestic guests.
As short term letting is becoming increasingly popular for property owners all over the UK and the Peak District in particular due to the high financial rewards, there is a need for professional support and services to help manage this rising demand. Pass the Keys is proud to announce that we have teamed up with local business owners Oliver and Danielle Kirkham-Gill to provide this level of support in the Peak District.
Pass the Keys is a new kind of holiday let management company and a full-service operation, created specifically to give homeowners the ability to maximise their short-term rental income without any hassle. In a nutshell, we list and manage your property on multiple short-letting sites like Airbnb, so you don't have to.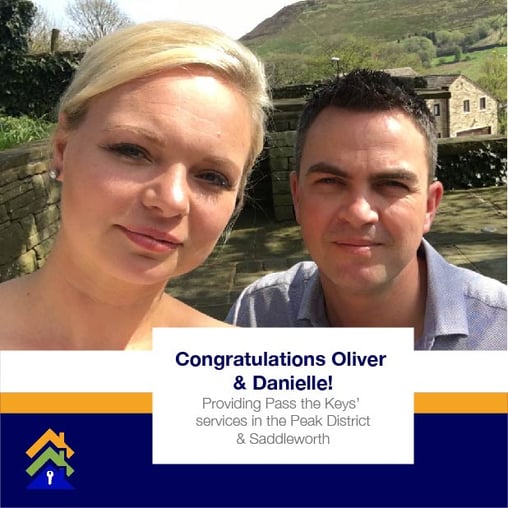 We interviewed Oliver & Danielle to find out why they are so passionate about the area and its growing holiday let industry.
Hi Oliver and Danielle, can you tell us a little bit about yourselves?
Oliver: I'm Oliver and for the best part of 20 years have been an Estate Agent covering initially lettings until around 2007 and then moving into residential sales. Since 2009 I have worked in Saddleworth and absolutely love my job. I am married to Danielle and we have two amazing children together Ellis and Arlo.
Danielle: I'm Danielle and from college, I worked in, and then owned, a beauty salon until the birth of my second child when I decided to concentrate on enjoying the early years of my children's lives. My youngest started school last September and I have been looking for my next challenge for a while now.
Why did you decide to partner with Pass The Keys?
Oliver: Short term letting had been on my mind but I just couldn't work out how to manage properties at scale until I came across the technology and processes that Pass The Keys offer. After our initial discussions, it was a no brainer and the fact that they have far more 5-star reviews than any other short let provider made the decision even easier.
Danielle: It made sense that I took on something to compliment the estate agency business and Pass The Keys shares a lot of the same values that we have ourselves. The awards won helped to reassure us that we had made the right decision.
Why are the Peak District and Saddleworth good for short term letting on platforms like Airbnb?
Oliver: I had been seeing short letting starting to gradually take hold in Saddleworth and there are so many advantages over standard long term property letting. The main one of course being profit which far outweighs long term letting and the properties currently operating on sites like Airbnb are generally full and have strong nightly rates.
Danielle: In the Peak District, there is already a good holiday let market and understandable so with the area being so popular with tourists this will only grow. Being close to home and offering so much to do we often holiday in the national park.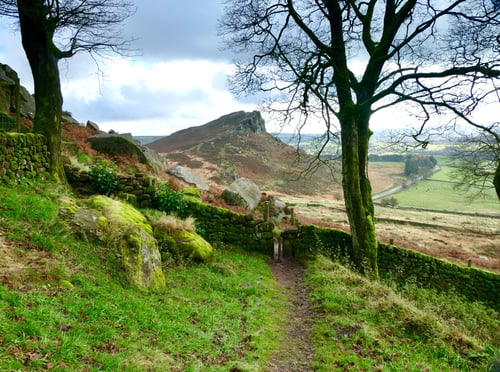 Why does the Peak District need a holiday home management company like Pass the Keys?
Oliver: There is most certainly more demand than available properties but managing short let accommodation takes a lot of work. Marketing, cleaning, linen changeovers, updating supplies, guest questions, check-in, check-out, accounts and start the process again!
Danielle: After researching the market in the Peak District we were surprised that there didn't seem to be any companies offering a full end to end service in the way Pass The Keys provide. The dynamic pricing system with Pass The Keys automatically maximises the nightly rate which increases the host profit too.
What is your top tip for homeowners short-letting their property on sites like Airbnb?
Oliver: Think about what you would want from a short break and go from there. A home away from home maybe, fully equipped, character and charm? Your property must also be exceptionally clean to meet Pass The Keys standards and guest expectations.
Danielle: Make sure your photos are of a professional standard to create a fantastic first impression and stand out on Airbnb. Guests are going to decide whether to stay at your property based on what they see along with other guest reviews so make it look at it's best.
If you have a property in the Peak District and are interested to find out how much you could earn as a short-let host through Airbnb, give Pass the Keys a call on 01457 605937. You can also visit our website and get a quote on how much your property could earn through short-letting. Simply visit www.passthekeys.co.uk/peak-district