Pass the Keys, the UK's largest professional Airbnb cohost, is now expanding within Sheffield. Pass the Keys maximises income for homeowners and property investors by listing their properties on short term letting sites such as Airbnb & Booking.com whilst offering full end-to-end property and guest management.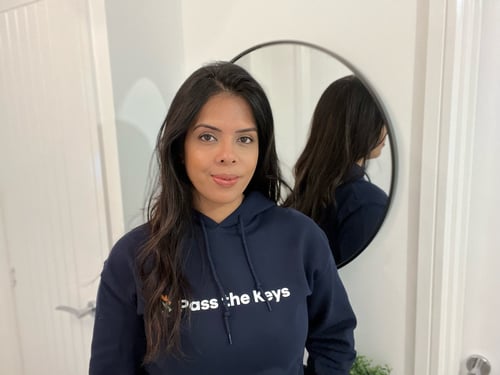 We interviewed local entrepreneur, Reema Khela, to see why she's excited to grow a short-let business in Sheffield and what attracted her to partnering with Pass the Keys!
Hi Reema, can you tell us a bit about yourself?
Hi, my name's Reema, I grew up in South Yorkshire and just relocated back here recently. My background is in Project Management, mainly working in universities. Prior to that I worked in recruitment however, I've always wanted to run my own business.
Having said that, I'd never had an idea of what to start a business in, I'd had a few 'side hustles' that worked around having my kids but nothing worth replacing my job. Property was also a passion of mine and being a landlord meant that I was in a network where I learnt about strategies such as 'serviced accommodation' (also referred to as 'short-lets') where there was potential to achieve much higher rental yields than normal buy-to lets.
What drew you to partnering with Pass the Keys?
I'd had some conversations with friends in property that said they had found it challenging to find a good serviced accommodation management company. So when I came across a Facebook ad for Pass the Keys' franchise opportunity, that was my 'lightbulb' moment. Although PTK wasn't operating in my area, I saw that they were one of the leading Airbnb management companies for hosts in London and were one of just three official professional co-hosts of Airbnb in the UK.

PTK's company ethos and values aligned very well with my own and I was impressed by their technology advancements. Being naturally cautious though, I still spent a year doing my due diligence, talking to other franchise partners, reading trust pilot reviews as well as looking into the company's structure and systems. I found the company to be very transparent and the people very passionate about what they do. Knowing that PTK had grown to 65 locations in the UK and won several awards, including being nominated finalists for British Franchise of the Year, gave me more than enough reassurance.
Why is Sheffield good for short-letting on platforms like Airbnb?
Sheffield is an excellent location for short letting as it attracts many different types of visitors, from business travellers, contractors, tourists and people staying for leisure. It's one of the largest cities in the UK and has 17.2 million visitors a year with more than two million of those staying overnight. It has great transport links, a buoyant economy and is undergoing a lot of redevelopment. Sheffield is an international city with two world-class universities, attracting talented people and major events. It also has a rural touch as one third of Sheffield lies on the Peak District National Park.
Many people prefer the flexibility and cost-effectiveness of serviced accommodation compared to hotels. Factors such more space, having somewhere to cook, a 'home from home' experience all whilst being 'serviced' makes it a great alternative to hotels.
Why does Sheffield need a short-let management company like Pass the Keys?
Serviced accommodation isn't really a property business - it's essentially a hospitality business. Trying to do it yourself can often feel like you're taking on a second job. However, I know most people want a more passive income without the hassle.
What is your top tip for homeowners short-letting their property on sites like Airbnb?
You've probably heard this time and time again, but I can't stress enough how important it is to get high quality professional photos of your property. It's the first impression a potential guest gets and many people are likely to be put right off a property based on the photographs alone, before they have even looked at the price and other details.

Think about the features in your property, such as décor or key pieces of furniture that can make it stand out from other properties. Although it's not essential, staging and interior design can really help to get the most of your Airbnb property.

Lastly, make sure that cleaning is to 5* hotel standards, there should be no dust or signs of a previous guest.
If you have a property in Sheffield and are interested to find out how much you could earn as a short-let host through Airbnb, give Pass the Keys Sheffield a call on 0114 697 0311. You can also visit our website and get a quote on how much your property could earn through short-letting. Simply visit www.passthekeys.co.uk/sheffield.