Pass the Keys Comes to Ryedale District!
Here at Pass the Keys we're very excited to share the news of the latest developments in our ongoing programme of nationwide expansion. From our headquarters in London, we've been rolling out the Pass the Keys operation to franchisees in cities and towns all over the UK and we're now moving into the beautiful North Yorkshire district of Ryedale.
Pass the Keys takes a truly innovative approach to the property management sector. The short-let market is booming as never before and we are here to give clients the best service and enable them to find their ideal properties.
Online short-let specialists such as Airbnb and Booking.com are revolutionising the short-let sector, offering rentals of exceptional quality and value to thousands of renters from both the domestic and international markets. Since 2015, Pass the Keys has been playing a major part in that revolution, in partnership with hundreds of property owners who have enjoyed significant growth in rental volumes.
We provide a complete service to our clients - you provide the property and we do the rest, from getting prominently listed on every major site to taking over the entire range of management duties. Pass the Keys can maximise your rental income and you don't have to lift a finger.
Who is the owner/team at Ryedale and what is their background?
Hello, I am Chris Grace, the Managing Director of Pass the Keys Ryedale. I started working in property in 2009 starting out in construction before moving onto Newcastle Business School to study for an undergraduate degree. Since then I have formed many successful businesses within the property industry. I am delighted to bring these skills and experience to Pass the Keys Ryedale.
We sat down with Chris to ask him about his love of Ryedale, his vision for the short-let industry and what motivated him to set up the newest branch of Pass the Keys.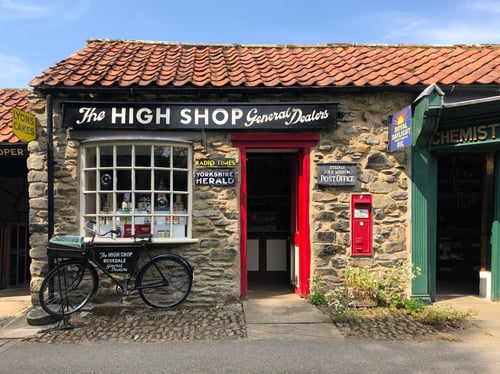 What is it about Ryedale that makes it a good opportunity for short-let platforms such as Airbnb?
Well, there are a few key reasons. Firstly, I think the Covid-19 pandemic changed the way people think about holidays and short breaks. The restrictions on flying forced everyone to look at the UK in a different light and although at first, this might have felt like a temporary alternative, as people really started to discover the richness and variety of sights and experiences to had in our beautiful country, they also recognised that a staycation is by no means second best.
Places such as Suffolk, the Lake District, Devon and Cornwall were already well-established destinations but there's so much more to see and Ryedale is in one of the most gorgeous counties in England. It's home to some of the most spectacular scenery in Britain and Ryedale is in the perfect setting in which to enjoy the hills of the Wolds, the dramatic North York Moors, the wonderful heritage coast and the stunning ancient city of York.
It's so easy to get here that I think people are going to start coming in ever-increasing numbers and while we may have some great hotels and B&Bs, there is going to be a growing demand for self-catering short-lets with all the comforts and conveniences of a home from home. Ryedale is at the heart of the other England - the one which everybody is going to know about and want to experience.
How did you identify a need in Ryedale for a short-let management company like Pass the Keys?
Any homeowner who wants to take a step into the short-let market is going to have a lot of questions and a few concerns. Their property may be an important asset but it's also a home and while the theory of letting sounds great, the practicalities can be daunting. Platforms such as Airbnb are brilliant for making connections with holiday-makers, business visitors or anyone else looking for somewhere comfortable, well-equipped and perfectly located but what happens once a letting is agreed?
Knowing your precious property is in the hands of a highly professional, efficient and dedicated management team offers genuine peace of mind. The more this part of the country opens up to tourists and other types of visitors, the more the short-let opportunities will grow. Arms' length landlords are crying out for someone they can trust to look after their interests and to ensure that their tenants have the best experience. That's what Pass the Keys stands for.
What's the most important piece of advice you'd like to give to homeowners who are considering a site like Airbnb to short-let their property?
Your property is everything. You can't do anything to change its size or location, but if someone is interested then those factors are not important. What you can do is make sure that your property is spotless, smartly decorated and appointed for every possible need and convenience. Imagine what you would like to find if you were looking for a short-let property. You'd expect comfortable chairs and plenty of them, a well-equipped kitchen, a television with a variety of channels, a way to listen to music... the list could be endless, but make sure you've prepared it with the visitor in mind. If it would suit you then that's a pretty good benchmark.
Get more ideas and advice on how to be a short-let host from our blog:
If you own a property in or near Ryedale from which you'd like to earn income as a short-term let then Pass the Keys can make it happen. We partner with a wide range of platforms including the world leader, Airbnb, which means we can get your property listed everywhere that matters. We can also manage the entire lettings process on your behalf. Contact us now to learn more about how it works, get answers to your questions and find out how much your property could earn you.
If you have a property in Ryedale and are interested to find out how much you could earn as a short-let host through Airbnb, give Pass the Keys Ryedale a call on 071653 919480. You can also visit our website and get a quote on how much your property could earn through short-letting. Simply visit www.passthekeys/ryedale