Pass the Keys, the UK's market leader for short-let property management provider, will launch from the 1st July 2023 in Orihuela including Orihuela Costa, San Miguel de Salinas and Pilar de la Horadada. We provide a unique and simple solution to manage your property while offering a hassle free experience. We offer a bespoke formula based on your needs to help you maximise your rental income.
Can you tell us a bit about yourself?
I'm Tony. My family and I moved at the end of 2021 to Orihuela and more specifically to Orihuela Costa. Before moving to Spain I was living in Bournemouth and for the past 12 years I have been involved in buying and renovating properties to a high standard as well as being a landlord, equally enjoying both aspects of the real estate industry.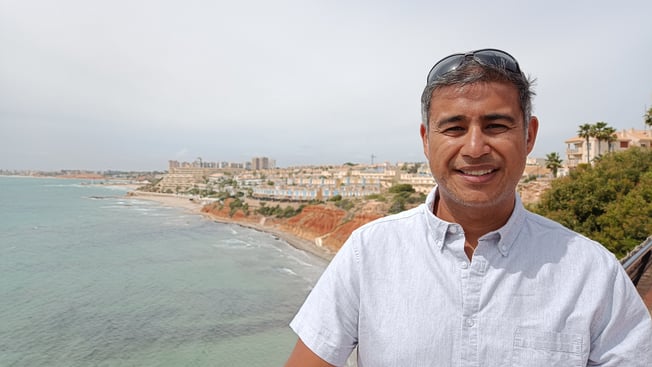 Why did you choose to start a Pass the Keys® Franchise?
Since moving to Spain I have been struggling to find the right business that can give me the flexibility that I need between work and quality time with my family. I still wanted to be involved in the property sector and by coincidence I saw an ad on Facebook. From the moment that I clicked the link and read the details on Pass The Keys I knew straight away that this was the right choice and the ideal business for me. The discovery call just reconfirmed what I already knew and having set up more than 70 franchises in the last 3 years, it was proof that the formula they have is key for a successful partnership.
What do you think Pass the Keys® can bring to the short-let market in your area?
There are multiple new developments in the area targeting mainly foreign investors and consisting predominantly of apartments. This can only indicate that there are more opportunities for the short-term let industry to grow even faster and higher demands for an end to end management solution. Given that more than 99% of holiday accommodations in the area are short-let compared to hotels, this makes it even more important to offer the high end quality service that Pass The Keys can provide.
Would you like to say a few words on your new business venture?
I am excited to be part of the Pass The Keys Family starting this new venture in Orihuela Costa in the province of Alicante, Spain. Pass The Keys has successfully established themselves as one of the leading short let management organisations in the UK. I feel privileged to be one of the early adopters for the Spanish market to offer exclusive end to end management service.
This new partnership works hand in hand with my background as an experienced landlord and as a property developer having bought, renovated and sold properties for more than 12 years. This can be beneficial as I can relate with property owners highlighting the benefit of our management services as well as advise them on minor renovations and interior designing & restyling to further increase their bookings and occupancy rate.
How did you hear about Pass the Keys®?*
I saw an advert on a social media platform with the opportunity to start a franchise in Spain. Having used platforms such as Airbnb and Booking.com I have experienced the service from the guest perspective and I understand the business model. After researching Pass the Keys, the short-term property industry and my local area, I was convinced this opportunity will complement my knowledge and experiences of the property industry.
If you are a property owner in Orihuela Costa, Pass the Keys can help you maximise your rental income and provide a superior guest experience. Get in touch with us to find out more about our services and how much you could earn as a short-let host through Airbnb. You can also visit our website and get a quote on how much your property could earn through short-letting. Simply visit www.passthekeys.com/orihuela-costa.