Pass the Keys, the UK's leading short let property management service launches in Lewisham, Peckham and Bermondsey! We are excited to serve the best property management service, hand in hand with our new partners, Darren and Lydia!
Meet our new Partners, Darren & Lydia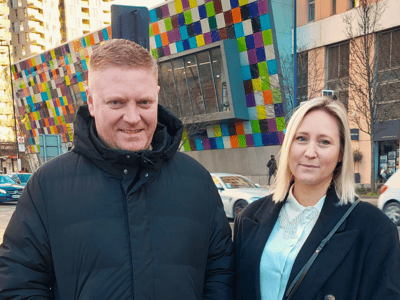 Hi, Darren & Lydia, what can you tell us about yourselves?
Hi, I am Darren and I have lived in Lewisham and the surrounding areas all of my life.
My background for over 20 years has been in Head Office Retail Buying & Merchandising. I have successfully run my own Consultancy and On-line Business. I have also been involved in buying and selling property for the last 10 years.
I am particularly excited to have my partner, Lydia, joining me on this Airbnb Serviced Accommodation venture. Lydia has vast experience in Customer Service and Business Administration.
What drew you to partnering with Pass the Keys?
We holiday in Northern Italy every summer. Phil- The owner of the Palazzo where we stay, has a property in Oxford that is managed by Pass the Keys. Phil spoke very highly of Pass the Keys both for the hassle free end-to-end service provided and for the financial returns he receives. As soon as we got back home we started researching the Company and the process started from there.
Why is Lewisham, Peckham & Bermondsey good for short-letting?
The demand for short-let in Lewisham, Peckham & Bermondsey is vast and continues to increase year on year. With Lewisham awarded London Borough of Culture 2022 and both Peckham and Bermondsey being named among the 'Best places to live in London' within recent years these areas are some of the most vibrant and cosmopolitan places in London. They are rich in history and culture with an abundance of award winning green spaces, repurposed railway arches, rooftop bars, art gallaries and bustling markets. The area is also home to the World famous Horimans Museum and Gardens. There are fantastic transport links with the Dockland's Light Railway (DLR) running from Lewisham to Canary Wharf in 16 minutes and to the O2 Arena in 12 minutes!
Why does Lewisham, Peckham & Bermondsey need a short-let management company like Pass the Keys?
Although demand for short-let in Lewisham, Peckham & Bermondsey area is high. The area is lacking a market leading property management service. Pass the Keys offers our Hosts a hassle-free and flexible short-let management service that maximises rental income.
Pass the Keys management service includes:
Dynamic Pricing supported by an in-house algorithm

24/7 Guest Support

Thorough Guest Vetting

In-house professional photography

Property listing on 25+ platforms

Full Cleaning and Linen services

Dedicated local account manager

Property performance dashboard via the PTK Host App
What is your top tip for Homeowners listing their property on sites like Airbnb?
Ensure you get your property looking its best before your photographs are taken. Try to view your property as your Guests will and never underestimate the importance of soft furnishings, plants and home comforts!
If you have a property in the Lewisham, Peckham and Bermondsey area and are interested in finding out how much you could earn as a short-let Host through Airbnb give Pass the Keys Lewisham, Peckham and Bermondsey a call on 020 3835 4158 or visit our website to find out how much your property could earn through short-letting simply visit https://www.passthekeys.co.uk/
The postcodes we cover are: SE4, SE5, SE6, SE8, SE12, SE13, SE14, SE15, SE16, SE22, SE23, SE26.