With its launch in Ibiza, Pass the Keys is set to bring its expertise in short-term rental management to the island, providing property owners with a reliable and efficient way to generate income from their properties. while ensuring that guests enjoy a seamless and hassle-free experience.
Pass the Keys, the leading short-term rental management company in the UK has recently launched in Spain. This move comes as the company expands its operations to meet the growing demand for short-term rentals. Pass the Keys offers a comprehensive range of services to property owners, from marketing and guest screening to cleaning and maintenance.
Ibiza is one of the most popular holiday destinations in the Mediterranean, known for its stunning natural beauty, luxurious accommodations, and world-renowned nightlife. The island has a wide range of accommodations to suit every taste and budget.
One of the key factors driving Ibiza's popularity as a holiday destination is its high level of hospitality. The island is home to some of the best restaurants, bars, and clubs in the world, and its service industry is renowned for its professionalism. This high level of hospitality is in response to the demand from the many high-net-worth homeowners and discerning travellers who flock to the island each year.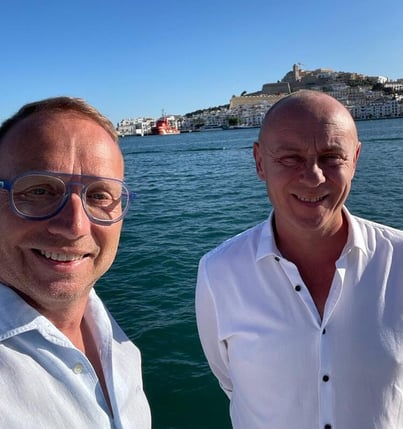 Pass the Keys Ibiza is led by two experienced managers, Stefan and Peter, who bring a wealth of expertise to the company. With backgrounds in both sales and hospitality, they have a deep understanding of the needs of property owners and guests alike. This local team of experts will work closely with property owners to ensure that their properties are marketed effectively and that guests receive the highest level of service.
Stefan has over 25 years of experience in sales, having worked in corporate life and running a successful e-commerce business. He has a keen eye for detail and is passionate about delivering exceptional customer service.
Peter, on the other hand, has over 20 years of experience in the hospitality industry, having managed a number of restaurants, bars and shops in different countries. He is an expert in guest experience and understands the importance of creating a welcoming and comfortable environment for guests.
Together, Stefan and Peter form a dynamic team that is dedicated to delivering outstanding results for Pass the Keys Ibiza's clients. Pass the Keys is set to become a leading player in the short-term rental market in Ibiza.
If you have a property in Ibiza and are interested to find out how much you could earn as a short-let host, give Pass the Keys Ibiza a call. You can also visit our website and get a quote on how much your property could earn through short-letting. Simply visit www.passthekeys.com/ibiza.