Long known as the UK's home of surfing. This vibrant town isn't all about the beats and the booms from the local nightclubs but is one of Cornwall's most popular holiday resorts with something for everyone. This seaside resort has a host of quirky local shops dotted around with plenty of available pit stops to pick up a Cornish pasty or treat yourself to some homemade Cornish ice cream. If you don't have a lot of time, here are the best bits, which we think should not be missed…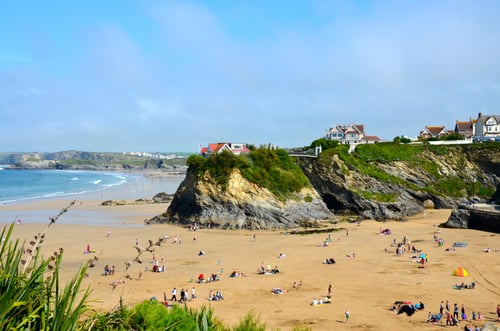 What To Do
One thing's for sure, that when you come to Newquay, you will be spoilt for choice with its array of natural sandy playgrounds. There are 8 beaches just a stones throw away from the town centre and 3 more accessible by a short drive, each boasting a unique quality of its own with hidden coves and secret rock pools. Whether you want to be adventurous and try a bit of surfing on Fistral beach or spend the day soaking up the rays down at Lusty Glaze, there is no better way to relax.
If you feel like taking a walk on the wild side then Newquay Zoo is the place for you. You can visit their amazing mob of meerkats, feed fish to the friendly family of penguins, be amazed by the loud roars of the lions and listen to beautiful birdsong in the tropical house. Exciting keeper talks as well as activity trails, face painting, a children's play area and dragon maze offer plenty to keep people of all abilities and ages occupied. Newquay's award-winning zoo is a perfect day out for the whole family.
Where To Eat
From swanky bistros to the local fish and chip shop, Newquay has more than you need on offer when it comes to dining. One of our favourites is the Lewinnick Lodge which has long been established as the premier location and oceanside dining experience to enjoy fine local Cornish food. Proudly positioned at Pentire head, surrounded by its high-top cliffs and crashing waves, this is the perfect spot to grab a bite to eat. Sit comfortably in the bar area with a game of pool or if you fancy making a night of it then the restaurant is ideal for you to sit back, relax and let the Lewinnick tickle all your taste buds.
Another one of our favourites is Kahuna specialising in delicious Pan Asian food. Well known with the locals, the restaurant often fills out every quickly. Experience it yourself and get booked in!
Where To Drink
We think that you'll agree that The Central Inn located in the centre of Newquay is the place to be. A stylish premium bar and the perfect place to meet friends at any time of the day or evening. Whether you want to watch the world go by over a leisurely cappuccino in The Central's outdoor terrace, fancy an early evening mojito mixed to perfection by their cocktail waiter, or a relaxed meal with friends, The Central provides a destination unrivalled for style or friendliness and is great for a little boogie on the dancefloor.
The Colonial is a great place for a relaxed seaside atmosphere. Right on the beach of Tolcarne, what better way to end your day sipping on local ales or a glass of wine as the sun begins to set. The team at the Colonial always offer a warm welcome to its guests.
As always, we'd love to hear what you think, so if you have a visit to Newquay and find a fun pit stop for a drink, or a quirky little restaurant hidden down on a beach, let us know so we can explore it too!