On 15th April 2019 the government announced they are moving to ban no-fault evictions in the UK.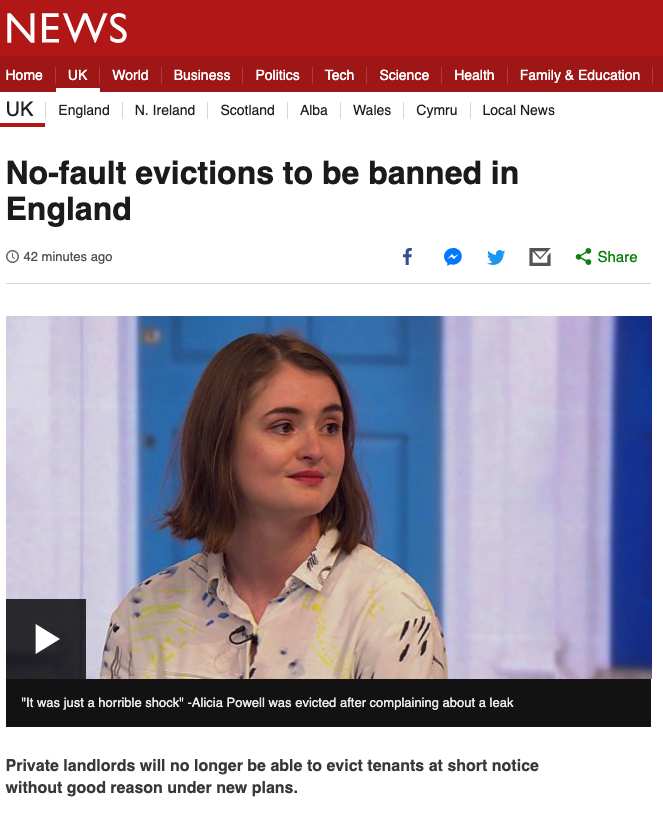 According to the original article: "Section 21 notices allow landlords to evict renters without a reason after their fixed-term tenancy period ends", and to City AM: "Controversial Section 21 evictions allow landlords in Britain's 4.5m-strong private rental sector to turf out tenants after the end of their contract without specifying a reason and with only eight weeks' notice".
However you stand politically, this now makes being a professional buy-to-let landlord riskier, as the options you have available to re-possess a property are reduced.
David Smith, the director for the RLA, said of the changes: "There are serious dangers of getting such reforms wrong. This means ensuring [buy-to-let landlords] can swiftly repossess properties for legitimate reasons such as rent arrears, tenant anti-social behaviour or wanting to sell them. This needs to happen before any moves are made to end Section 21."
This move follows a series of legislative changes which have made life harder for buy-to-let landlords in recent times. Alterations like the Section 24 changes to landlord tax relief, or the reduction in minimum room sizes for HMOs, make it harder and harder to make ends meet, and also make the short-letting sector more appealing.
Short-letting is an interesting alternative for buy-to-let landlords who are under pressure. Particularly on Airbnb, the 'guests' are not subject to the same laws as normal 'tenants', and therefore it enables landlords to earn decent yield from properties that might otherwise be struggling for profitability.
Pass the Keys is a short-let management company, managing properties in over 12 different cities in the UK on sites like Airbnb. We have found our landlords can increase their yield by an average of 50% more than the AST that they were previously using. This is before considering the flexibility it provides - our landlord clients have the ability to access their property twice per week, as we change guests every 4 days on average.
If you are interested in learning more about short-letting, and the flexibility and yield increases it might add to your portfolio, please feel free to get in touch. Our new business team work from 9am - 6pm, 5 days per week, and you can call them on 0208 050 2818. You can also email on info@passthekeys.co.uk or you can book a call at a time that suits you.
We hope to hear from you
PTK New business team.