It's the Most Wonderful Time of the Year! Have you decked your halls with boughs of holly? Prepared to Step Into Christmas? Do you even know it's Christmastime?! Okay, we'll stop with the puns… for now!
Going that extra mile for your Airbnb and holiday home guests over the festive season will make their experience at your property just that bit more magical. So, how exactly do you do that?
Look no further… here's how to make sure your home is ready for the holidays!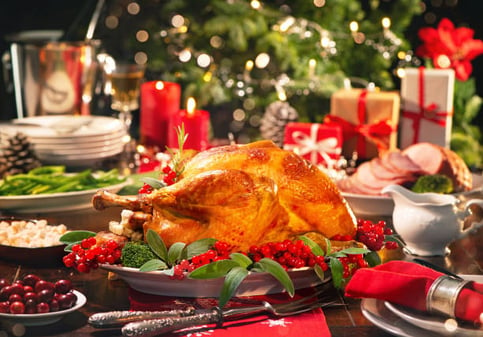 Let your guests rock around the Christmas tree
We're not sure you can have a Christmas-ready property without having a Christmas tree in the mix! With guest allergies, the mess it can make, and the fact it can topple over at any moment, a real tree may be out of the equation for you - plus, a fake Christmas tree can exude just the same amount of Christmas magic.
Get out those baubles and tinsel (if you're a tinsel person!) and decorate your faux tree to your heart's desire. It's bound to provoke that warming feeling for your guests when they step foot in your home.
If you'd like to go one step further and make your tree seem a little more real, why not pick up a fragrance stick or two to pop between the branches?

Deck the halls
Decorating your home for Christmas will make your guests' stay that bit more special - just think of how wonderful it will be for them to see your already-beautiful home with a festive twist.
Put up stockings (bonus points if they're on a mantelpiece), line your rooms with festive lights, and why not go the extra mile and pop a wreath on your front door? First impressions are always extremely important!

A miracle on your street
We think the magic of Christmastime is incomparable, and want your guests to feel that fuzzy feeling while they're staying at your home. Putting out festive-scented reed diffusers will transport your guests to the joys of Christmases past, while cosy blankets placed next to your sofas and beds will let them truly sink into their delightful getaway.
The holiday magic doesn't have to end once your guests have stepped out for the day, either. Why not make a handbook with everything going on in the area over their stay? It will make their trip even more memorable… not to mention, it will likely result in some positive feedback.

Create the fairytale (even if you're not in New York)
Go the extra mile for your guests to ensure their stay with you feels just like the trips they see in the movies.
● If you have a fireplace or woodburner, restock the logs so your guests can cosy up in front of the fire.
● Make sure the heating is easily accessible and your guests know how to use it. This should be the case all year round!
● Put some festive favourite DVDs next to the TV if you have a DVD player, or give your guests access to your streaming platforms so they have the choice.
● What's Christmas without some friendly competition? Leave out a board game or two (Monopoly is always a favourite!) so guests can enjoy some quality time together in the evenings, or if the weather takes a turn.
● Leave a festive card. It won't cost you much, but the act of kindness will go a long way. Pick up some Christmas cards from your local card store and leave a note for your guests. Even better, purchase your cards from an independent local artist and give them some extra promotion, too!

Remember, It's a Wonderful Life!
Anyone visiting an Airbnb is likely doing so as a treat. Even if your guests are visiting for work, they deserve a sprinkle of Christmas magic! Making your Airbnb or holiday home as special as possible for your guests over the festive period will potentially result in future bookings, fantastic reviews on your booking platform, and a lot of recommendations from happy customers.

Merry Christmas Everyone!
We'd like to wish you a very Merry Christmas, from the team at Pass the Keys Shropshire. We hope this blog has helped with some tips on how to make your holiday home a festive fairytale!

If you'd like some help making your home a perfect Christmas getaway, we'd love to do our bit. Please email vicky.brown@passthekeys.co.uk if you'd like to find out more.