There is no shortage of people working as cleaners in the UK today. An estimated 500,000 people work for cleaning companies, which doesn't include self-employed individuals.
But with such a large pool of cleaners to choose from, many of those who engage in Airbnb hosting struggle to find the right cleaners for them. Airbnb management is no joke, and finding trustworthy Airbnb cleaners can be harder than you think, especially given the shortage of cleaners and domestic staff due to the COVID-19 pandemic.
Below, we've outlined the requirements of Airbnb cleaners, as well as how to find, hire and train the right people. With the right approach, finding cleaners for your holiday let management can be a rewarding experience.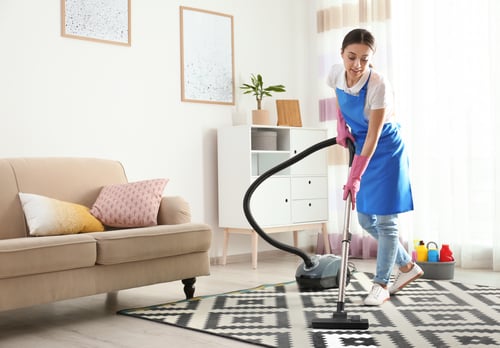 What Sets Cleaning Expectations Apart For People Who Are Airbnb Hosting?
All homes need to be cleaned at some stage in their lives. Many of us clean ourselves, whilst many others choose to hire cleaners to do this job for us.
But when you're an Airbnb host, these demands are far more significant. Tenants rightfully expect a high-quality deep cleaning to have already been undertaken before they arrive at a property.
To make sure that standards are met, Airbnb has created guidelines for an Airbnb cleaning service.
This is what's known as the Airbnb 5 step enhanced cleaning process. This process consists of the following steps:
Prepare so that cleaners know the scale of any job before they start.
Clean, removing dust, dirt and stains from surfaces.
Sanitise, using chemical disinfectants.
Check, to make sure that an entire property has been cleaned thoroughly.
Reset, replacing all items ready for the next guest.
These steps should be followed by all professional Airbnb cleaning services. It's the role of property managers to hire the right people so that cleaning is always completed to the highest standard.
Or if you're working with them, this is the job of an Airbnb Agency co-host.
But how exactly do you find, hire and maintain a relationship with the right cleaners?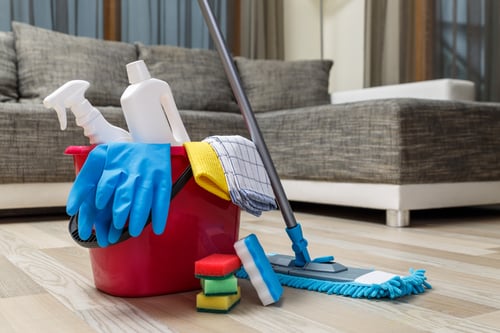 How To Find and Hire Airbnb Cleaners
If you're looking for Airbnb cleaners on your own, there are a number of things to bear in mind.
For starters, you should always research cleaners who specifically state they are experienced with cleaning Airbnb properties. This is for two key reasons.
The first of these is that they will be clued up on the above 5-stage cleaning guidelines. If this process isn't followed and your property is dirty, you risk a bad review from any potential tenants.
The second reason is that these cleaners will be experienced in the specific demands of cleaning rental properties. This means that their schedules will be better aligned with your needs as a property host.
As an Airbnb host, you'll likely receive new tenants regularly. In some cases, guests may only visit your property for a single night before leaving.
If you have multiple changeovers every week, you need to rely on a cleaning company to always be on hand when you need them. This is why it's typically worth working with a company of cleaners, rather than an individual.
However, you should also consider the kind of contract involved with your cleaning partners. If you provide regular cleaning to a smaller company, you'll likely be able to negotiate a reasonable fee.
Regardless of how you proceed, communication between a property manager and a cleaning company is key. This is the best way to nurture a strong working relationship and ensure everyone benefits from the arrangement.
Ultimately, Airbnb cleaning is a demanding job. If you're working with a cleaner that isn't cleaning properly, you can train them on the 5-stage process to improve their performance.
Or, it may be worth switching providers altogether. If this sounds like a lot of work, it is.
That's why many Airbnb hosts leave cleaning management to an Airbnb Agency.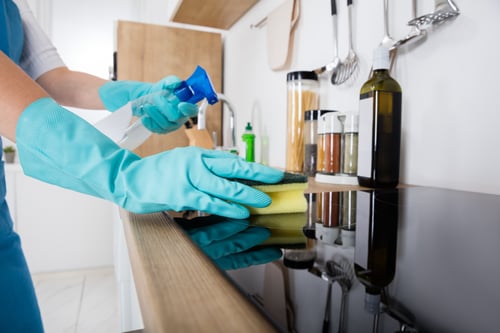 How Can an Airbnb Agency Help With Hiring Airbnb Cleaners?
An Airbnb Agency can be on hand to help you manage your property. That includes organising and maintaining high standards of cleaning for your homes.
Working with an agency means that you can relax in the knowledge that your home will always be cleaned by professionals. Airbnb agencies have a network of cleaning contacts who are specifically experienced in regularly cleaning Airbnb properties.
The best agencies will always ensure that this cleaning is to a hotel standard every time. They'll also only hire based on Airbnb vetted cleaners.
Using an agency also means you don't have to nurture the relationship with your cleaners yourself. Instead, this relationship and the quality of work will always be handled by the agency itself.
This level of support extends to other areas of Airbnb management as well. An agency will be able to handle your check-ins, whilst also collating data on your bookings.
They can then work with you to ensure your property is booked as often as possible, to maximise your returns.
If you're concerned about serving questionable guests, then agencies can conduct guest screening processes. This makes sure that your property is only ever occupied by legitimate individuals.
An agency will always provide you with regular, 24/7 support if you need it. That's if you have questions about cleaning, bookings, your property or anything else.
These are just some of the many services provided by our dedicated team at Pass the Keys.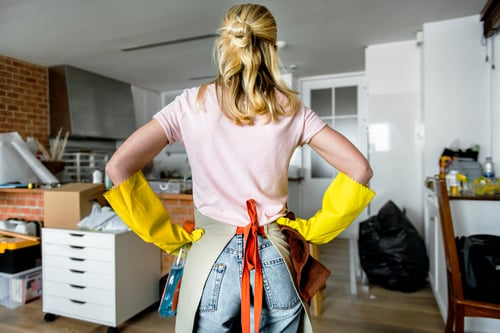 Where Can I Find Out More About Hiring Airbnb Cleaners and Using an Airbnb Agency?
You should now know how to hire cleaners if you are Airbnb hosting, and what to look out for. But by going through an agency, this is information you won't have to worry about yourself.
By putting your property into the care of an agency, like Pass the Keys, you'll leave the harder, more time-consuming parts of Airbnb management in our hands.
To find out more about how Pass the Keys can manage your property, make sure to read through our FAQ page. Or, you can submit your property details using our online form today at www.passthekeys.co.uk