A 2021 report found that 26% of adults in the UK own a dog, and with British staycations all the rage for summer 2022, and you may be wondering how you can make your holiday home pet friendly. After all, it's no secret that the cost of leaving dogs with a sitter whilst you go on holiday can be eye-watering! Many guests will appreciate bringing their four-legged friends along for those countryside rambles, beach trips, and paddles in the river.
Certainly, a host has a high incentive to make your holiday home pet-friendly. But what about the smell, the extra cleaning, and the risk of canine-related damage? Don't worry; we've come up with some top tips on ensuring a pet-friendly holiday home can be kept in optimum condition.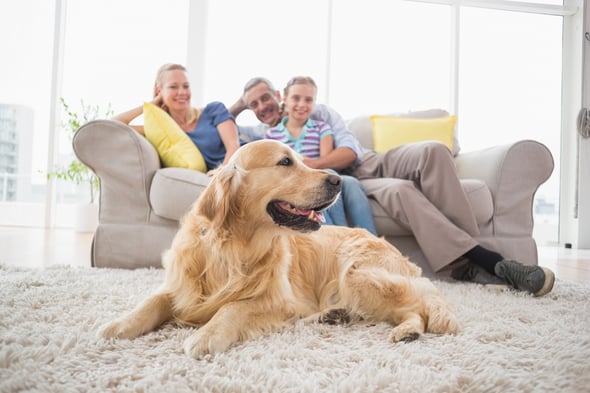 1. Set boundaries
Maybe you only want dogs to be kept in the kitchen, with a designated sleeping area, under constant supervision. Or perhaps you permit one dog per stay? This will depend on the size of the property as well as your personal preferences. Don't hesitate to request a copy of a pet's health records. Look out for missed jabs and ensure flea treatment is up to date.
Top tip: Insert a stair gate for extra peace of mind
2. Charge a pet fee
Let's face it, dogs create a mess, and depending on the breed, some are messier than others. Don't let this deter you; add a 'pet fee' to bookings that cover the additional cleaning costs.
Top tip: Anything between £20-£40 is ideal to cover the additional costs.
3. Upgrade your insurance
This will come in handy in the event of any damage that exceeds the cost of the security deposit. You will likely have to do some digging as few policies cover damage by domestic pets.
Top tip: Boshers and Home Protect offer holiday home policies covering pet-related damage.
4. Add a security deposit
A deposit for guests with pets will provide extra protection in the event of damage, stains, or extensive cleaning. Most guests will expect this, so don't feel shy about requesting this. It will also act as a deterrent and keep pets (and owners) on their best behaviour!
Top tip: Set your security deposit based on the size and value of your property, the number of dogs, and the length of stay.
5. Provide pet essentials for guests
Pet owners will appreciate essentials such as poo bags, a bed, towels, lead, shampoo, food, and water bowls already provided for their pets. These items can be reused for the next pet that visits and is not particularly expensive, but you can guarantee they will be mentioned in reviews.
Top tip: An ID collar with the address of your holiday home will help set nervous dog owners' mind's at ease in case their dog gets lost, allowing pets to roam free in their new surroundings.
6. Security
This is an important one! Make sure your holiday let is completely secure before you begin marketing it as pet-friendly. After each check-out, ensure that the perimeters of your holiday let are secure and in full working order.
Top tip: It is worth mentioning to guests all the possible escape routes, in case they have particularly curious pets!
7. Create a pet-friendly welcome guide
Adapt your welcome guide to dog-friendly visitor attractions, cafes, and bars. Likewise, if there are local areas where pets are not allowed, be sure to point these out to avoid disappointed guests.
Top tip: Don't forget to include contact details for your local and emergency vets.
8. Pet-friendly furnishings!
Save those expensive furnishings for 'No Pets Allowed' rooms. Instead, in rooms that four-legged friends will be roaming through, add washable throws and sofa coverings, remove any ornaments that could be unsettled, and fix TVs directly to walls to avoid damage. Keep any objects that could be dislodged and used as toys out of reach.
Top tip: When it comes to flooring, tiled or laminated is best. Pet hairs, mud, and smells can easily be removed, but the floor can be decorated with a nice rug or two in winter.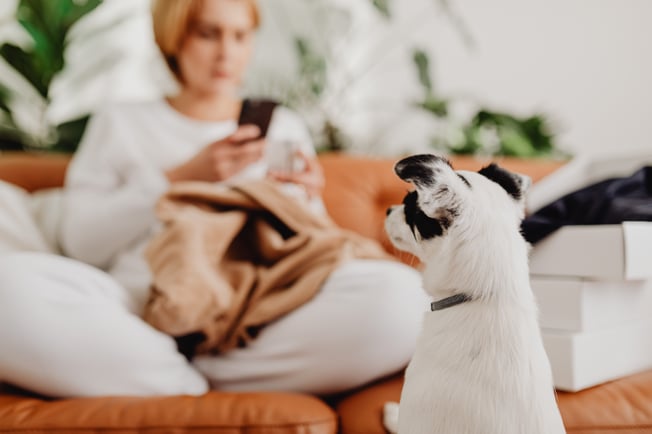 In most situations, owning a dog-friendly holiday home where guests can relax with their four-legged friends is a lucrative investment that will make you stand out from the rest. In the same way as guests, you will rarely have a negative experience from pets staying at your holiday home, so why not make your holiday let canine-friendly this summer!