Don't you think it's crazy how properties now days incorporate latest, advanced technological features for guests to enjoy for entertainment or general convenience? From a tumble dryer to a Smart TV, you can find properties that have it all. Which is great but aren't we missing a trick here? What about including features that would benefit guests on a wheelchair! As a host, have you ever considered about their needs? It's an angle that is often overlooked and there's a market that demands housing advancements in order for them to pick your property for short-staying.
There are almost 8.4 million people registered as disabled in Britain, out of which around 1.2 million are wheelchair users in the UK. Social housing associations act as pressure groups who usually argue estate agents do not market enough wheelchair accessible properties. Numbers show that there is a fairly high population of wheelchair users, and by accommodating for them, it is likely you will gain more traction. By making the modifications to suit guests on a wheelchair, not only it is ethically attractive but as a host, it is an opportunity to reach out to a new set of the market! Potentially, it gives you an edge over all other property hosts by adding some key features, so why not widen your horizon! This blog will talk about wheelchair friendly modifications you can make to your property, from small to big advancements!
So… Shall we start off with some small ways to show consideration to a potential 1.2 million guest market? Let's go!
*Suitable Flooring
Now I have a question to ask you on a personal level… If you needed to go to the bathroom or kitchen in your house but there was quicksand in your way, how would you feel? Not so great right? Maybe a little bit annoying too.
So, imagine how a person in a wheelchair would feel when a rigid carpet surface is in the way between them and the bathroom, making it utterly difficult to maneuver around! Would not lead to positive guest experience, that's for starters. So, what is appropriate to have?
- Use hardwood, laminate, vinyl flooring or ceramic tiles! Really easy to move on, plus it's usually a popular choice when it comes to cleaning so most hosts would pick these options anyways.
If you're still rocking with carpet in your short-term let property, it's a big no if you want to accommodate disabled guests!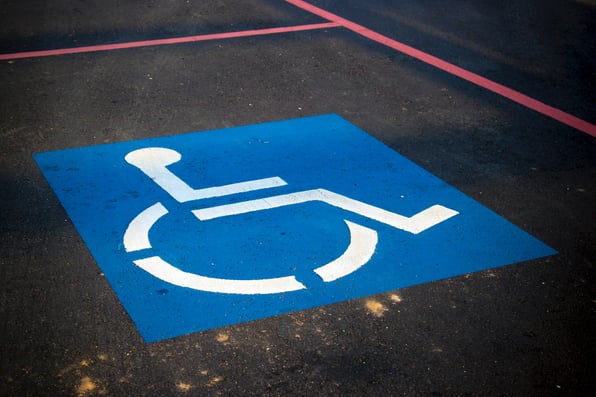 *Dedicated car parking space nearby
When you shop at a supermarket you always notice how car parking spaces are prioritized to the needs of different customers. Those with a disability badge get the forward spaces, followed by those who have children and then generally everyone else. Which clearly indicates those on a wheelchair need convenience first! Having an off-street or unrestricted on-street parking ranging within 25 meters to the entrance of your property would be a high plus to include on your listings for short-staying guests!
*A simple step is no steps
Wheelchairs don't work on staircases or steps in front of your entrance, in fact, it's an obstruction. If you weren't already aware of this, we are more than happy to remind you! Why not add fitted ramps on exterior doors to provide easy access for guests? Can there really be another way to display a warm welcome?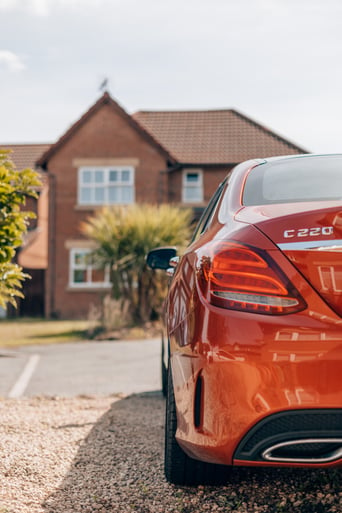 *No gravel driveways, please!
Just like carpet, gravel is an enemy for wheelchair accessibility. We want all guests to be able to maneuver in and out of your property with ease, don't be adding unnecessary hurdles… these aren't the Olympics!
It's understandable you want your property to look appealing however sometimes less is more and simplicity is a keynote to convenience for all. There are other ways you can decorate your driveway, use:
- Concrete – is durable and long-lasting.
- Bricks/clay bricks, timber sleepers.
- Bluestone pavers (do not crush to make gravel), also known to provide some slip resistance for safety!
*A lower pee-hole on door entrance
Pee-holes are a tool we use to see who's at our doorstep when the doorbell rings. It's an addition to one of many security features you may embed into your property. Having an adjusted pee-hole on your exterior door would enable a guest on a wheelchair to see at an eye level. It doesn't necessarily have to cost you a fortune to drill a hole and it helps design your short-term let household for a wider target audience, so why not?
Now let's move onto some of the big and juicy advancements you can add to your property if you wish to specialize in this market!
*How can you uplift your guests? Installing a staircase lift is the first thing that comes to mind
Since Pass the Keys, only short-term let whole properties, not rooms, it's possible your house may have staircases. Well hello… guests can't just magically teleport upstairs, unfortunately, science hasn't quite reached that level yet; though it would be exciting! So how about installing a staircase lift and instilling some positivity in your guest's mind which could lead to a 5* review by providing this facility! Now, this is not a cheap investment but it's a modification that would certainly attract this market in the long run. There's not a huge number of hosts doing this, therefore it's an opportunity to stand out.
*Inaugurate a panic button or other emergency contact system
Earlier we spoke about adjusting pee-holes at an eye level for those on a wheelchair for basic security. To provide guests with a better sense of security, you can enhance facilities by including a button or emergency contact system whenever a guest is in need. This will act as a direct aid to prevent incidents from happening.
No matter what industry, technology has vastly improved services in the past decade or so. If we focus on using today's technological power on needs over wants, it's a long-term investment that will always prosper because the demand will always be there. Furthermore, it's directing focus on providing services that are good for society, so feel good as a host!
Pass the Keys happily accepts housing that is designed for wheelchair users. In fact, it boosts your listings, your property has more to offer. So, if you have a vacant property with tailored needs for this target market and are interested in short-letting, contact us now! If not, we hope you found this blog interesting to read or gathered some ideas you may want to add to short-term let your property! Feel free to give us a call at +44 20 8050 2818 to see how we could help you with your short-term rentals.