Airbnb is a world wide phenomenon with two million homes registered on the website. They are the most secure short let platform that protects guests from scams by providing secure payment, star ratings and user comments, but even such a sophisticated company with their huge scale is not immune from deceit.
As an Airbnb management service providers, Pass the Keys is also concerned with Airbnb scams issue. To prevent customers from "meeting" with online scammers, we have created a post about how you can detect an Airbnb scam, and what to look out for in order to protect yourself.
We have surfed the internet and read lots of stories about guests being deceived by scammers on Airbnb, and noticed that, usually, scammers will try to make you get out of Airbnb's platform by asking you to send your enquiry to their personal email. They may even ask you to do a bank transfer to secure your booking with the following proposition: "We noticed that the listing featured an email address and a note suggesting that people send questions there."
Don't fall for this! Keep every conversation and (more importantly) transaction on Airbnb's website; it is the only way you can guaranteed that your booking is secure and legitimate.
Check below common scams that Airbnb already reported: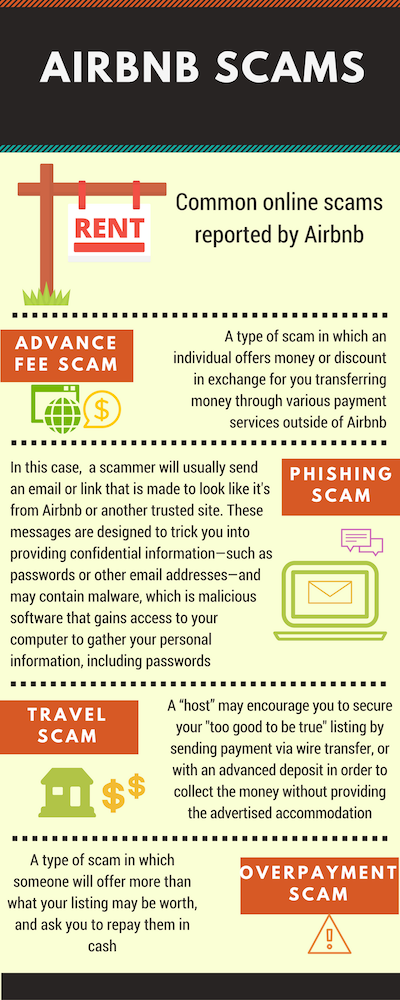 Can you imagine what it would be like to be caught up in a fraud like the ones listed above? [Not nice at all!] Learn how to avoid the Airbnb scams with the tips below:
1. According to The Guardian, one of the main rules when booking on Airbnb is to pay through its internal payments system which does not pay the host until the day you've moved in. This system protects visitors from frauds.
2. Don't open links sent you by e-mail. If you do, make sure they are real. Open your Airbnb account and login in, the same message should appear there, and if it doesn't ... don't trust it!
3. It may sound like an exaggeration, but keep the rule "one password for each site". Lisa Vaas from Naked Security says: "If you're using just one login and it gets breached, the person who has it can take over your Airbnb account (or your online bank account, or your Twitter account, or wherever else you've used that login) and put up fake listings under your name."
4. Aim for the Superhost badge; according to The Points Guy, it is a way that you can be sure that the listing is legit. To become a Superhost, you need to host 10 times during the last year, have at least 80% 5 star hosting reviews, maintain a 90% response rate, and don't cancel confirmed reservations. Short letting from a Superhost is practically a guarantee that you will have everything that the listing promises.
Airbnb gives you the right tool to report such behaviours; if a host asks you to pay off-site or asks you to finish the booking by private messaging via personal email, report it by flagging the message. Just look for the flag icon and click it to protect yourself from getting scammed on Airbnb.
So, if you noticed any strange behaviour or just don't feel like the listing is legit, don't go for it. Start again, and look for the right flat for you vacation or business trip!
If you are an Airbnb Host interested in short-letting your property, but do not have time to take care of your flat or guests, we, Pass the Keys, are here to take the renting hassle off your shoulders and significantly boost your income! Call us now on +44 20 8050 2818 to get a Free Assessment.