With almost 170,000 active listings in the UK, Airbnb is quickly becoming a popular platform for over 6 million inbound guests, according to Airbnb Citizen's UK Insights 2017. As more and more property owners are listing their properties on Airbnb, it has become increasingly important to receive as many good reviews as possible to keep your property visible. The easiest way to do so is to make sure your guest have a phenomenal experience at your property.
Sure, you could spend thousands of pounds upgrading your flat, but what if there were 5 simple things you could do with minimal effort to keep your guests happy? Well, you're in luck! Here are some easy ways you can improve your guest's experience.
1. Offer Complimentary Amenities
When staying at an Airbnb, guests typically have similar expectations to if they were staying at their own homes. In order to get that 5-star review, hosts need to make sure that they are going above and beyond what is expected. An easy way to add value is to offer complimentary amenities such as toiletries, bathroom essentials, and kitchen necessities.
On a basic level, in regards to kitchen amenities, hosts should have utensils, dishes, and cooking ware, especially since many guests opt for Airbnb instead of traditional hotels for the availability of a kitchen. To go the extra mile, hosts can provide items such as cooking oil, spices, sugar, tea, and coffee.
2. Prepare a Welcome Pack
When guests check-in to your property, there is nothing more amazing than receiving a warm welcome. You can prepare a basket of goods such as bottled water, fruit, and snacks. You should also include information about the property (i.e. WiFi password) and the surrounding area (i.e. places to eat, shop, and visit). While not mandatory, these practices will make your guests feel welcomed. If you are looking to really impress your guests, feel free to write a handwritten card expressing how excited you are to host them.
At Pass the Keys, we prepare welcome packs that include information about the property, tourist attractions, and transportation for our guests to make sure their stay is smooth and pleasant.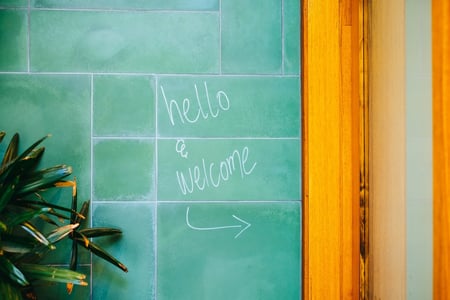 3. Provide Entertainment
The purpose of Airbnb is to provide guests with a home away from home. As a result, adding home entertainment such as books, magazines, and DVDs would greatly improve your guest's experience and make them feel more at home. While some guests may be satisfied with just having WiFi access, you have the opportunity to really impress your guests by allowing them to live in a property with the cleanliness of a hotel and the comforts of a home.
4. Check on Your Guests
It never hurts to check on your guests. Sending a simple message such as "how are you finding the property?" can add a human touch to the hosting process. Guests usually appreciate the gesture, as it shows that the host actually cares about how the guest is doing. This also gives you a chance to identify and solve any potential issues a guest may have with the property, instead of having no communication with your guest and receiving a poor review.
Pass the Keys offers 24/7 guest support, so we will always be available to answer any questions or concerns your guests may have.
5. Have a Guest Book
Having a book for your guests to write in can be an awesome experience for both you and your guests. For your guests, it gives them a chance to "leave their mark" and see what others, who have stayed in the same property, have said. For you, it gives you a cool souvenir to remember your guests by.
What to Do Next?
Armed with these 5 super easy tips, you are now ready to provide your guests with a 5-star experience. To make hosting even easier for you, property management companies such as Pass the Keys can provide hotel quality linens, towels, and toiletries to every guest, so you don't have to. Pass the Keys also offers 24/7 guest support that will check on your guest and make sure no issues occur. If you are interested in seeing how Pass the Keys can help you, check out the Airbnb management services we offer to make your experience as hassle-free as possible. For more hosting tips, check out our Airbnb hosting blog. Call us at +44 20 8050 2818 to learn more about our hassle-free short let management service.