Tourism and capital are two social factors that go hand in hand, often times in a mutualistic manner. In Edinburgh's case, around 4 million visitors help pump a whopping £1.32 billion into the local economy annually. On average, this supports around 30,000 jobs, and pays salaries worth a total of around £400 million. Edinburgh is projected to do even better in following years with tourism partners hoping to increase visitor numbers, and bring tourist expenditure to £1.5 billion by 2020. Sounds like a win-win situation for Edinburgh residents who have plenty to look forward to.
Why is Edinburgh so popular though?
Edinburgh is a prime destination year-round for domestic and international visitors because of its wide variety of attractions. The capital boasts iconic landmarks such as the Edinburgh Castle, the Royal Mile, and the Royal Botanical Gardens to name a few, that people travel thousands of kilometres to see. Edinburgh also hosts year-round festivals and events, particularly during peak season which spans through the months of June to September.
A major attraction during this time is the Edinburgh Fringe Festival, the world's largest performing arts festival that lasts for nearly a month each year in the summer, and that attracts millions from around the world.
Peak season (June to September) experiences the highest demand for accommodation, as can be seen by the charts below. Hotel occupancy has even seen risen between 2015 and 2016, suggesting an increased number of tourists to the capital.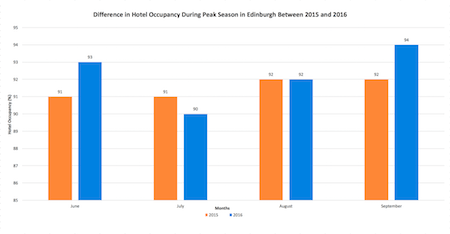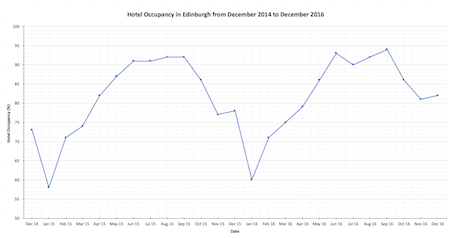 The continuous and increasing influx of visitors to Edinburgh as a tourist destination, especially during peak season, inevitably puts stress on the demand for and supply of accommodation. Sounds daunting for hotels and bed & breakfasts that quickly need to expand to accommodate more people, but in reality, these are goldilocks conditions for Edinburgh's airbnb short-let rental market – a true gift in disguise for landlords. With high demand comes high turnover rate; and high turnover rate means a rise in rental income (variable by season). This opportunity could be particularly enticing for landlords leasing their properties out to students in the city. Although 12 months is the usual length of a tenancy contract, it is not uncommon in Edinburgh for students to sign 10 month leases with their tenancy terminating at the end of the school term. From a student's perspective, this shorter contract allows him or her to avoid having to unnecessarily pay 2 months worth of rent during summer. From a landlord's perspective, it's a win-win scenario – one long-term tenancy ends, and 2 months worth of short-letting opportunities present themselves right during peak season.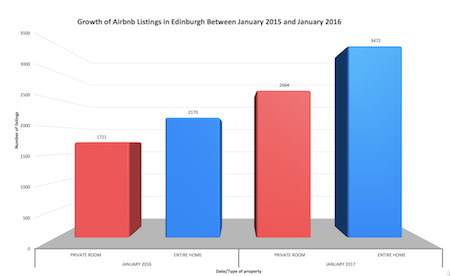 Edinburgh's residents seem to already be progressing towards more regular short-let rentals, with Airbnb listings seeing major increases between 2015 and 2016. This reality is becoming more and more prominent with media sources such as the Scottish Business News Network highlighting Airbnb's impressive growth in the capital. Additionally, Airbnb host revenues have gone up drastically over the last couple of years, a factor that is undoubtedly correlated with the rise in visitor numbers to the capital. In 2014, the total revenue made by hosts in Edinburgh for short-letting their entire homes was set at £8.8 million. In 2016, that figure doubled to an incredible £17 million.
Edinburgh Airbnb's growing popularity is one of many examples that makes it clear short-letting is the path to follow in a time of booming tourism; and what better way to short-let property than to do so in a hassle-free manner?

Airbnb property management companies such as Pass the Keys will take care of everything for you! From 24/7 guest support/communication to full cleaning services after every check-out, Pass the Keys offers you a range of top quality property management services that are unparalleled.
Curious? Try a free assessment now to see how much you could earn from your property in Edinburgh, and find out more about the company and your opportunities by contacting Pass the Keys at 020 8050 2818 or by checking out our other blog posts.