The risk of getting bad guests is enough to turn anyone off. In a perfect world, your property would be a hub of wonderful stories of happy travellers, who leave it spotless behind them and post raving reviews to attract even more wonderful guests.
But this isn't always the reality. Bad guests do not leave behind any sort of joy in your short-term let, instead, they cause issues for you, your neighbours, and your bank balance. It's fortunate that the good usually outweighs the bad, but it doesn't make those tricky Airbnb guests any less painful and is inevitably one of the pitfalls of property management.
As a property management company specialising in short-term letting, Pass the Keys® have experienced the good, the bad, and the ugly when it comes to guests. Unfortunately, whilst our instincts can be pretty good at picking up on the red flags, it can be more difficult with online booking systems. Actively taking preventative steps to minimise risks of accidentally accepting such problematic guests, we make Airbnb management easier and lower risk.
Pass the Keys® recommends a few practical and proactive steps to encourage responsible, friendly, and respectful guests staying in your property and prevent the muddy footprints of those less desirable from even reaching your rental property in the first place.
The best piece of advice short-let management and Airbnb property management can offer is to turn off the instant booking option on Airbnb. The instant book option allows any prospective guests to book and be accepted immediately. This takes the power from your hands, and you could even find yourself being penalised for cancelling too often.
To avoid this, and to feel more at ease with the potential guests staying in your property, turn off this option and allow yourself space and time to follow the rest of these steps.
Vet your guests appropriately.
The second, and perhaps most effective preventative step you can take, is to do some sleuthing on the guests requesting to stay in your short holiday let. Airbnb, for example, has an excellent guest review system in place, where the host rates how nice they were to have as a guest. Make sure to do your part and review your guests too, as that way, bad guests are highlighted with warning flags for any future hosts.
See if your guest has a complete Airbnb profile, or if it is verified on the platform. Verified profiles are vital, they require mobile numbers, Facebook logins, credit cards, and other forms of ID to make sure you are dealing with a genuine individual.
If you find an unreviewed guest wanting to stay, make sure you strike up a conversation to get a feel for their character. Have a chat and ask why they've chosen your area and ask their reason for staying - if they're looking for a location for a party such as a hen or stag do, you may want to reconsider.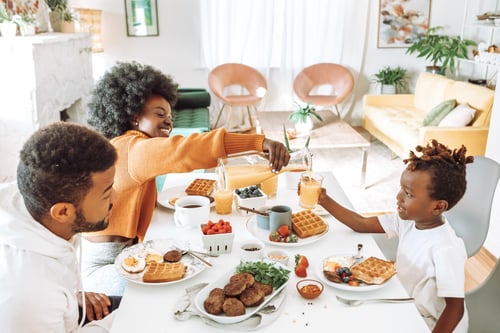 Outline the rules and expectations of your property.
Be explicit in your house rules when you write your listing description. Whilst the worst of the bunch might be someone who ignores the rule, an explicit statement such as 'NO PARTIES' may dissuade them at least. Guests who are somewhat looking for trouble are far more likely to be drawn to listings where the host hasn't outlined explicit expectations.
Make sure to review and update your policies and rental procedures regularly to ensure everyone understands all you are offering. By clearly stating what guests can expect in terms of space, furniture, and extras, you are less likely to get complaints when what they expected doesn't materialise. Make sure pictures (such as Pass the Keys'® complimentary photography for your listing) are as close to what the guest will see when they arrive, to further mitigate complaints and prevent confusion.
Offer solutions and consider having someone in the local vicinity.
As much as we wish we could offer you a spell to cast a protective aura over your property to keep away undesirable guests, one might just fall through the cracks of your well-intentioned plan to keep them out.
First, don't panic if such a scenario occurs. If you're fortunate to have a property management company, chances are they are well versed in difficult guests, so you are in good hands. They'll be able to liaise with the guest, offer the best solutions for all and communicate with the booking channel, such as Airbnb. This is especially useful if you don't live nearby. Having someone nearby who can pop by, offer a helping hand, or even a friendly reassuring face, can go miles with an originally unhappy guest!
There isn't a guarantee for any of these scenarios that all will go as first planned. Accidents can happen and you can be caught off guard. Try to bear in mind that sometimes misunderstandings can occur, and clear communication can go a long way to happier guests and hosts. Take a deep breath, know it will get sorted and your dream guest is just around the corner!
Whilst fears around the risks of difficult guests are completely justified, having experienced property management companies on hand will do wonders for your sanity and stress levels, looking after your property and assuaging your fears of problematic guests.
Ultimately, following the above tips will help maximise your chances of reducing unwanted guests and will help you deal with them if you are unfortunate to come across one. Property letting can and should be an enjoyable, respectful and worthwhile experience to most and here at Pass the Keys® Guildford we continue to make sure the few bad experiences don't tarnish the many.
For more tips on Airbnb success, check out this blog post!
Or, to find out more about the short letting process and financial rewards, speak to one of our dedicated host advisors today on 020 8050 2818. For more information about our property management services, head to https://www.passthekeys.co.uk/services/.