Is Airbnb legal in Valencia?
Yes!!! Don't worry. Airbnb remains legal in Valencia! Valencia is Spain's third largest city and it offers tourism for all tastes. This city is also popular for its its peculiar museums, the largest aquarium in Europe, the beautiful old riverbed-turned park, the Turia, and it's annual festival, Las Fallas. Of course, the beautiful sunny weather and endless sandy beaches are always firm favourites.




Currently, there are >7,000 listings on Airbnb in Valencia, of which more that 4,500 are entire properties. Average Occupancy Rates in Valencia are very high, at 83% and the current average rate is €116. According to short-term rental data from airdna, a 2-bedroom apartment in Valencia can make up to €31,800 annually.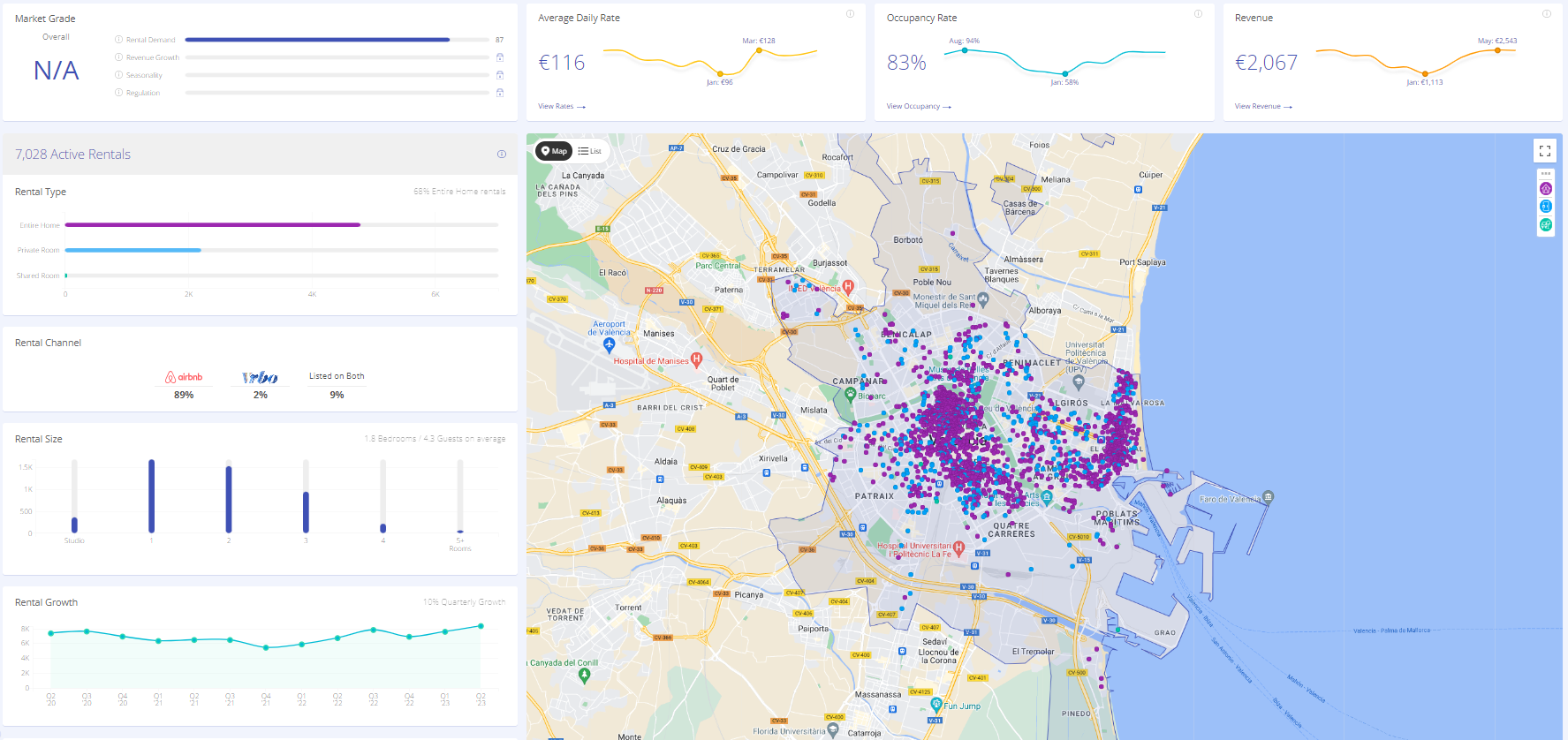 Short-term rental policy in Valencia
Properties must be rented as a whole, it is prohibited to rent out individual bedrooms.
Registration forms must be stored by landlords for a period of up to three years for the inspection of the police.
No minimum or maximum term for short-term contracts (no longer than 11 months)
For non-resident landlord: liable to pay Income tax (25%)

Pros and Cons of Running Airbnb
Short-term rentals are vacation rental properties rented out on a short-term basis to guests, like hotels. This form of rental helps guests to feel more at ease and "at home" because the properties are typically designed in this manner.

A long-term rental is the most common sort of rental property utilized for residential purposes. This sort of rental property is usually protected by a long-term lease agreement with more binding terms than a short-term rental. Renting out their homes for a higher price than their mortgage allows them to generate regular income regardless of the market. Because it is more traditional and well-known, most people are more familiar with this sort of rental property.

Now that we've defined vacation rentals and long-term rental properties, let's look at each component of rental properties that explains both the benefits and drawbacks of a short-term or long-term rental.
Pros
1. Flexibility –

You have the option of renting for days, weeks, or months. You can rent as much or as little as you want. There's also the possibility of going on a trip at any time and earning money while doing so!
2. Privacy –

Short-Term Rentals are ideal for families. They provide guests with more privacy amenities and space than standard hotels.
3. Earns much more money than a long-term rental – It's simple to calculate: €1500 for a vacation week vs. €1500 per month to rent for a year.
4. Peace of mind –

With regular occupancy, you will avoid the risk of squatters (ocupas) illegally gaining entry and ownership of your property when it's vacant.
5. Tax Breaks – Short-Term Rental Owners receive the best home-related tax breaks.
6. Less Wear and Tear on the Property –
With regular turnover/churn of guests, the property is regularly cleaned and inspected, giving you peace of mind that your property nest-egg has not been damaged or destroyed, as might be the case with long-term tenants. With Airbnb and Passthekeys host insurance, owners can relax knowing that in the unlikely event that something is damaged, you know it early and it's repaired quickly.
Cons
1. Inconsistent payments –

If you're relying on a stable income, a yearly renter is a much safer option. But the monthly rent will, on average, be significantly less over time.
2. Must cover the utilities – Utility costs are usually paid by long-term renters. Short-term tenants don't.
3. Increased risk – There is a higher danger of theft, breakage, or problem tenants because of lower number of tourists going through your doors.
4. Requires extra effort – Running a Short Term Rental requires more effort because you are the "innkeeper". You'll be in charge of collecting money, scheduling clients, and bringing in tenants. You'll do it every week instead of every 5 years or so! This is where Passthekeys can play a huge rolw taking the hassle off your shoulders, so you only have to worry about how to spend your income!
5.
Some HOA –

Some managed neighbourhoods make it tough and complicated to rent short-term Rentals. People prefer comfortable, peaceful surroundings where they feel safe and know everyone, rather than random strangers coming and going at all hours. They may submit complaints to the property owners. But with the right client vetting and our local team, we can help alleviate any problems with the HOA's.
Conclusion
If you've made it this far, you're thinking of starting an Airbnb.
We've been assisting owners like you, who are first-time Airbnb hosts. We are experts in the marketplace and can help you find, furnish, list and manage your property in Valencia.

Our dynamic pricing algorithm will help you maximise revenue and occupancy.

We make hosting simple by dealing with bookings, clients and cleaning, and everything in between, so you don't have to!

Find out how much your property could earn with us on our website.