Bath has been one of the most popular city-breaks for international and domestic visitors for well over a decade as it really does tick all the boxes; fantastic places to eat, shop, drink and relax against the most beautiful Georgian architecture backdrop.
Bath rivals any city in the world, and what sets itself even further apart are some seriously creative independents setting up shop here. And, no one knows this intel better than locals; so whether you're staying here or whether you are hosting visitors, this post will be useful, particularly for those Airbnb hosting, or those who run a holiday let agency specialising in holiday let management. Navigate off the beaten track to experience the place as a local-would; beat the crowds and experience Bath uniquely.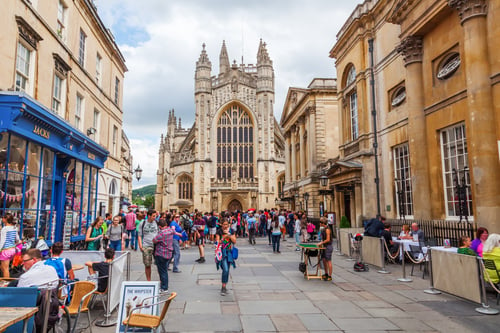 Eat – best places to eat
Start your day by grabbing a pastry (whilst drooling over the three-story emporium of interiors) at Berdoulat. If you fancy something quick but tasty, then Taylor's Bagels is your hit – trust me the queue is worth it and locals (including famous') flock to this trendy place. A tip though; ask for some extra napkins because these bagels are huge. If you prefer your food with a reservation (and it's the weekend) then head out in the car for ten minutes towards Castle Farm for rustic yet incredible roasts and curries, and the views across the organic farm and kitchen are spectacular. You'll need to book ahead, spots go fast.
For unpretentious fine dining back in the city make sure Oak Restaurant is on your list; divinely vegetarian they use only organic, biodynamic and low intervention ingredients. For something a bit different visit Noya's Kitchen; run by the most likeable couple, Noya has been hosting infamous Vietnamese supper clubs since 2016. For anyone with a sweet tooth, award-winning indie Good Day Café has your ultimate sugar-coma induced fix; the brownies are heaven. Fact.
Finally, if you'd rather cosy-up in your Bath holiday cottage, or Bath holiday let, sign-up beforehand for a Ping At Home feast; a meal service created by Ping Coombes, Masterchef Winner. The limited menu is inspired by her home country Malaysia and it changes every year; they come chilled ready for your to heat up in your holiday accommodation.
Shop – best places to shop
Bath has plenty of fashionable high-street names that you would expect to see on any major-city high-street including Anthropology, Cos, Penhaligons, Whistles and Russell and Bromley (to name a few) but these are rivalled by Bath's fiercely independents shops. Favourite areas include Walcot Street and Broad Street. Start at Biggie Best for the soft furnishing upstairs, next head to Always Sunday (founded by Lexi) the store showcases independent designers offering unique homeware products.
Roots and Records is a creative pop-up crammed between the two selling botanicals and of course, music records; what a combination. Clothe yourself in nostalgic 90s fashion vintage fashion at The Yellow Shop before stopping by Flowers by Blomme for flowers that are part-installation and art. This botanical artist is quickly becoming one of Bath's favourite new additions, offering floristry workshops and floral commissions.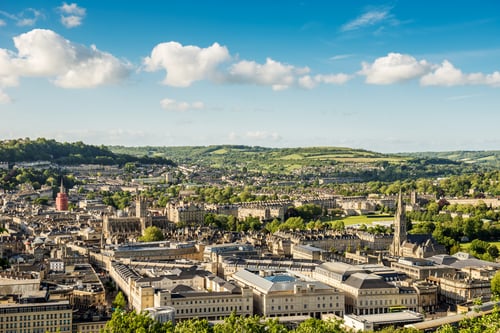 Drink – best places to drink
You cannot get more coffee-obsessed than contemporary local indies Society Café and Colonna & Small's; whose coffee is the best in the city. Choose the bean, grind and brewing method, with no latte or cappuccino insight. For wine lovers, stop at Beckford Bottle Shop, adjacent to the beautiful Assembly Rooms. And for those that prefer their drinks a little stronger, Bread & Jam are the new hot cocktail bar offering table-service; it's dark, brooding and painfully trendy. Failing that, perhaps you would like to supply some locally brewed drinks in your holiday cottage management, visit BeerCraft to secure some beers and ciders from Bath, Bristol and Somerset.
Relax – best places to relax
Give into the hype and Binge-watch Bridgerton before you arrive, so you can slowly meander from Pulteney Bridge, Laura Place and down Great Pulteney Street where you will feel as if you've landed in a live production of one of Britain's many best-loved period dramas. Continue the short walk to the Holburne Museum from some respite from the busyness. Just behind the museum is Sydney Gardens, Britain's best remaining Georgian Pleasure Gardens. In one of the lesser-known parks, you'll find local dog walkers and children on bikes playing in a once favoured spot of Jane Austen, which was first opened in 1795.
From here you can access the Avon and Kennett canal and walk five minutes towards Bathwick Hill and then head on towards Bathwick Fields for the best viewing spots around. Take a seat on one of the benches and watch the city glow in its landscape; even better if you arrive here at dusk. You won't regret it.
If you feel adventurous then pack your walking shoes and take the Bath Skyline accessed from Bathwick Fields; a six-mile route that elevates you above the city for some real mindfulness and escape.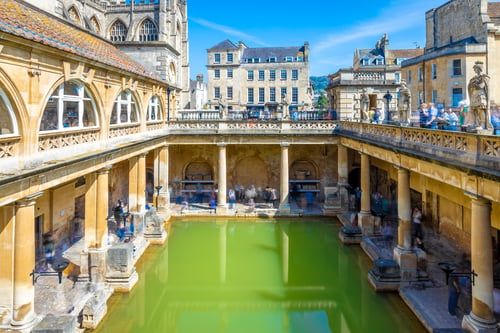 If you like this blog and are a Bath holiday let management company or Airbnb hosting company, why not print this off and include it within the welcome pack for your guests.