Airbnb has revolutionised the holiday-lets market since its formation in 2007, offering a more intimate, affordable alternative to the hotel experience. Operating on a vast scale of over 81,000 cities, it now presents attractive opportunities for entrepreneurs who want to start their own lettings service. In this blog we'll go through 5 essential steps to rapidly build up an Airbnb business that carries hundreds of properties under its wing.
Why set up an Airbnb business?


Setting up an Airbnb business doesn't mean making big, unaffordable investments in real estate. A property-management business model offers a lucrative opportunity for anyone with the drive and skills: you list homeowners' properties on Airbnb, look-after them, and take a commission of the let earnings.

Why Airbnb management, in particular? In short: high occupancy rates and high prices. As a short-let platform Airbnb achieves far better rates than long-let alternatives. As a household name, Airbnb also attracts a constant stream of holiday-goers, ensuring its properties are well-filled throughout the year.
5 essential steps


What are the essential steps to success on this Airbnb management model? Our first 3 steps will cover the basics of acquiring and preparing your properties. The final 2 steps will focus on scalability and sustainability (including a killer tip on how to get 4-year head-start…).
1: Find the right properties

Making your first few properties a success is a must, and key to that is careful property-targeting. There may be homeowners lining up for your services, but if their properties aren't going to perform well you won't be bringing back much of an income. Worse, homeowners may realise they're better off in the long-let market, cease using your services, and leave you with a bad track record that could hinder future growth.

Look out for these to make sure your properties are successful:


Location:
It is, of course, a very bad idea to take on property in a location no one wants to visit, with poor access to places people do want to visit!
Transport links. Strong transport links are a big pull factor, especially among Airbnb's large client base of holiday-goers. Tourists often want to explore a range of popular areas in a short period of time, and that requires speedy, wide-reaching connections.

Attractions. Are there any landmarks, galleries, museums, or good eateries nearby?

Searchability. You'll get more attention if the property is situated in a well-known area that people will search for on the Airbnb site.

Is it convenient for you? As a business you'll have to make sure it is feasible to manage the property. Are you near enough to step in if something goes wrong? Are there reliable cleaning services in the area?
Condition:
Are the walls damp? Have they been painted in the last 5 years? Is the furniture damaged? If the property is in a bad state and the host is unwilling to commit to refurbishment, it might not be worth taking on. Alternatively they might see the benefit of investing in an interior design makeover with a specialist company like Homewings.
2: Market your service

To attract new clients we recommend using a combination of online and offline marketing channels.

It's often worth making several ads which each target a unique audience, rather than hope to capture everyone's interest with a blanket ad. How you frame your marketing content, and the way you distribute it, will depend on the type of person you are targeting. Is it intended to attract multi-property owners, or people who are just off travelling for a few months? Think about how principal concerns will differ among different potential clients - for instance, property investors may generally care most about maximising their income, whilst families putting their own home on Airbnb for a few months might be most concerned about damage and guest vetting.

The success of marketing campaigns will vary with the quality of your reviews. It's no good raising awareness of your service if, once people look into signing up, they find you have a bad track record, or very few reviews at all. Build up a reputation to prove that you can make the proposition a success for your clients.
3: Get the properties Airbnb-ready

Niceties. Have a chat with the host about what they'd like to leave in their home to welcome their guests. Coffee, tea, a welcome guide, and high-quality toiletries all help to make a good first impression.

Assurance. Clients will want some assurance that their property won't rack up expensive damage from inconsiderate guests. Airbnb handily provide a £600,000 host guarantee as standard, but you may also want to vet your guests for extra assurance.

Photography & Description. Show off the property with professional quality photographs, and a killer description. When writing it think about the sort of guest most likely to stay at your property - whether business people, young travellers, or families.

Optimise the pricing. Have a look at the rates for similar properties in the area. Adapt the prices to account for seasonal demand and notable events such as sports matches or music festivals. There will always be limitations to this method in the absence of large quantities of data and adaptive pricing algorithms. Airdna's pricing software could be a good start.

Marketing your properties to guests? Once your well-chosen property is up on Airbnb, bookings will start coming in without much effort on your part. To boost the exposure and occupancy of your properties further, list them on further platforms like Booking.com, Spotahome, and Homeaway.
4: Sustaining serious growth

Running an Airbnb business is a time consuming task. In addition to acquiring and preparing properties, there's the whole matter of management too - cleaning, guest communication, maintenance, check-in, check-out, account management, and so on. Working alone it will only be feasible to manage 6 or 7 properties full-time. But a 6-property business doesn't sound very lucrative! A viable full-time business will have to expand further.

Further expansion is going to make acquiring, preparing and managing properties impossible without outsourcing and automation. Outsourcing and automation help to ensure growth is sustainable, but they also fuel further growth. The more you outsource and automate, the more time you have to focus on the real value-adding process of acquiring new properties to manage. Here's how it might apply to different areas of the operations process:
Cleaning services. Cleaning is one of the first operations to outsource. The bigger a portfolio becomes, the more difficult it is to find a single supplier that can reliably cover it all. We recommend opting for a combination of freelancers and cleaning companies. By doing so, there will always be a fall-back option ready to ensure someone is on-hand to clean at each guest check-out. The reality is that cleaners sometimes won't do a good enough job, so try to source companies which are willing to offer a free re-clean if their work isn't up to scratch. With a high guest change-over rate, making even a small average loss on cleans can make the whole business loss-making.

Guest communication services. To get the best reviews, guest communication needs to be speedy and reliable. What if there is a leak at 2 am in the morning? It's neither fun nor realistic to be on guard to talk to guests at any hour of the day or night. Establishing a support team that can help resolve issues 24/7 removes that burden. In the early stages this may be simply unaffordable, but it's something to aim for as soon as it becomes financially viable.

Keysafes. If you're going to grow a sustainable business, it's risky to commit to meet-and-greet services. They are a big time commitment, and can often worsen, rather than improve, the guest experience. They force visitors to arrive within a strict check-in window, which can be stressful in the face of potential travel delays. Many also just want to relax uninterrupted when they arrive after a long journey. Secure keysafes are a great, hassle-free alternative. Discreet safes are installed near the property, allowing guests to collect the keys at any time of night or day. Remote check-in methods like these are now officially recommended by Airbnb, and the only way of classing a property as 'business ready' on the site.

CRM software. Investing in a CRM (Customer Relationship Management) like Hubspot or Salesforce will streamline your marketing and operations process, and help prevent administrative slips. A CRM organises all your client and lead data, and centralises management of your relationships with customers.
A final rule to keep in mind is always keep ahead of your growth. Foresee and prevent the issues that will inevitably come with expansion, rather than waiting for them to strike and then throwing resources at damage-repair. Always have questions in mind like: what is the capacity of the cleaning service I'm currently dependent on? How many customers can my guest support service deal with?
5: Get a 4-year head-start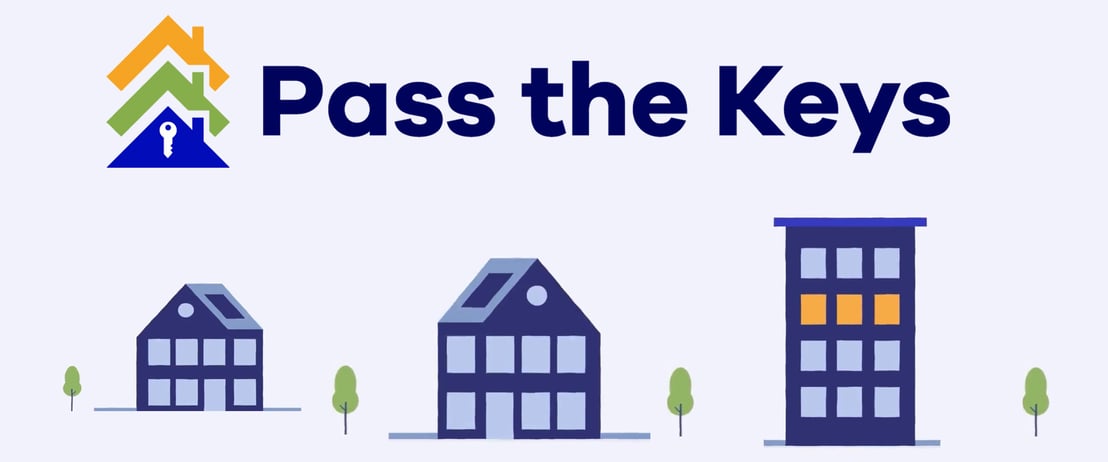 What if from day one your business had the highest ranking on Google, thousands of great reviews, and a fully functioning 24/7 guest support system? … along with a sophisticated tech infrastructure for maximum scalability, specialised pricing algorithms, and powerful marketing tools?

The excellent news is that this is far easier to achieve than you might think. How? By Franchising with Pass the Keys!

Pass the keys is the UK's leading short-let property management company, operating in 18 cities in the UK and boasting 4 years of experience in the short-let sector. It's also one of the very few companies to be accredited as a professional co-host of Airbnb by the giant itself. Our in-house tech is purpose built for short-let property management and overcomes the limitations of third party software. Our current Franchisees have raved about it, just have a look at their testimonials on our Franchise page.

Without access to our range of Franchisee tools, an entrepreneur looking to establish an Airbnb management business will realistically have to start hiring staff after taking on ~10 properties. With our tools you can get close to 50 by yourself.

For all the details, have a look at our Franchise page or book a call with our Franchise Manager, Nicole.