What is the UN climate conference in Glasgow and why is it so important? Can we accommodate?
The UK Government will host COP26, which will take place in Glasgow from 1 - 12 November 2021. This is the first time the UK hosts the conference which is expected to be the most significant environmental summit since Paris in 2015. It is hoped that the COP26 International Summit should result in a "Glasgow agreement" named after its host city in the same way as the Paris accord.
Countries are asked to submit their new long-term goals, so ambition to address the global climate emergency will be high on the agenda, an important opportunity for the UK – and Scotland in particular – to demonstrate what it is doing to reduce climate change and shift towards a lower-carbon, more inclusive society.
Over 30,000 delegates are expected to contribute to formal events in the 'blue zone' where climate experts, campaigners, policy-makers and world leaders debate how to make global progress on climate change and hundreds of thousands of people are expected to attend side events in the 'green zone', a citizen meeting space where NGOs, organisations and national representatives engage with each other and the general public on aspects of environmental awareness, social equality and reflections on proceedings at the COP. https://ukcop26.org/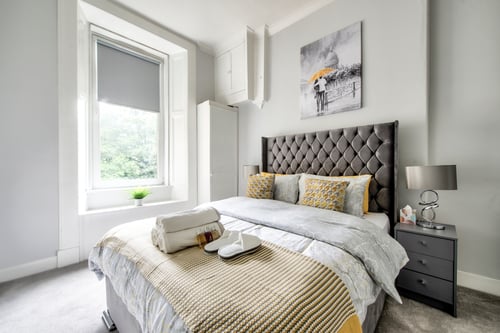 Can you get involved? Do you have accommodation to offer visitors?
´Cost to stay in Glasgow hotels during COP26 higher than The Ritz as prices soar', one of the many recent headlines in the press highlighting the fact that there are no rooms left at any of the main hotel chains in the City and an example of how prices have risen due to the extremely high demand, but lack of supply.
As the world's leaders in climate change are set to descend upon Glasgow for the UN's 2021 Climate Change Conference in less than 100 days, Scotland is upping its efforts to ensure accommodation for guests, delegates and support staff. Holiday let management can play an important part in supporting the need for more rooms.
LIST for COP26!
If you have a second home or property to let in the Glasgow area, this would be a good time to get it listed. You are helping to host one of the most important events to happen in our city and you can earn some extra income at the same time! If you don´t know where to start, you can have an Airbnb hosting expert manage your property and listing for you.

How does a property management company work?
An Airbnb agency in Glasgow can manage your property, so you don't have to. Companies such as Pass the Keys® provide a fully managed letting service that does all the hard work for you. They list your property on the largest short-letting sites such as Airbnb https://www.airbnb.co.uk/, care for the property before and after check-in, and maximise your returns. The best property management companies offer a fully managed letting service that looks after marketing, deals directly with guests and helps with the day-to-day tasks of managing a short-let property.
If you were thinking of letting but not sure how to get started, contact us now and find out about our fully managed service. Don´t miss it, list for COP26!
If you have a property in Glasgow and are interested to find out how much you could earn as a short let host through Airbnb, give Pass the Keys Glasgow a call today. Tel: 0141 483 7764 or email: natalia.soler@passthekeys.co.uk
You can also visit our website to get a quote on how much your property could earn through short-letting. Simply visit: www.passthekeys.co.uk/glasgow