The Royal Borough of Kensington and Chelsea (RBKC) is taking a serious look at the future of short-term lets, after being the first to issue an enforcement notice on one of its local properties. Homeowners with property advertised on holiday rental sites like Airbnb are advised to make sure their operation is running in accordance with the law.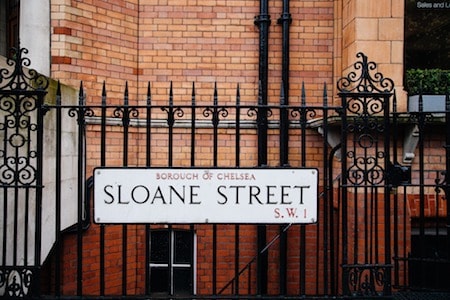 Triggered by the volume of complaints about rowdy holidaymakers disrupting the neighbourhood, RBKC has been addressing options for monitoring and investigating homes that breach London letting laws. For a better understanding of how property in Kensington and Chelsea is affected, we spoke to Mountgrange Heritage, a local estate agency with over ten years' experience of property in the area.
Why do people use platforms like Airbnb?
Holiday trends have been gradually moving away from the all-inclusive package trip, and people are increasingly seeking trips where they can be fully immersed in their destination. For tourists, being able to stay in the home of someone that actually lives in the city provides a completely unique experience that simply cannot be replicated by a hotel.
The benefit for landlords? Simple. Holidaymakers are willing to spend far more money than a long-term renter. Not only can they book back-to-back guests for a premium price, landlords can increase the cost to suit their demand – just like a hotel.
How have the rules changed?
Actually, there have been restrictions on short-term lets in Greater London since the 1970s. Whether homeowners realised it or not, any intention of letting their home for less than 90 days required planning consent from their local councils, at least up until a few years ago. With the surging popularity of "authentic" accommodation options (such as Airbnb), the Deregulation Act was passed in May 2015, allowing homeowners to legally let their entire home out to guests for up to 90 days a year.
So, what's the problem?
The rise of short-term lettings coincides with an increasing amount of disrespectful behaviour. Some visitors don't think twice about being disruptive, leaving litter and even causing damage to well-kept streets and communal gardens, as well as the properties themselves.
It doesn't help that this area is already bursting with high-end homes that are left empty by affluent owners, but the problem isn't isolated to West London. Desirable cities all around the world (New York, Vancouver, Barcelona and Berlin to name a few) are placing limitations on short-term rentals for precisely this reason.
What's happening in Kensington and Chelsea?
Needless to say, this disruption isn't going down well with the local community. While residents and nearby businesses can only do so much about the rental properties that are operating within city regulations, Kensington and Chelsea council have received almost 100 complaints over the last two years about homes that are believed to be in breach of the 90-day limit.
In response, the council have started to issue enforcement notices – the kind usually reserved for breaches of commercial licenses or illegal property alterations – to homeowners that are letting entire properties out for more than 90 days a year. The penalty is a fixed fine of up to £20,000, with notices of up to £30,000 threatened for "severe issues". The council is also continuing to develop their system for monitoring the number of short-term rentals.
What if you let a home in the area?
Firstly, if you operate a long-term rental then you don't need to worry. It's also important to remember that the license only applies when entire homes are let out, meaning that it doesn't apply to live-in landlords who have guests stay in a spare bedroom. However, if your portfolio relies on short-term lets, you will need to make some changes to stay on the right side of the law, if you haven't done so already. The preferred option is to focus on medium-term lets, as guests staying for longer than 90 days don't count towards your short-term limit. This could be used as a year-round strategy or mixed in with up to 90 days of short-term lets during peak season. Short-term let management companies, like Pass the Keys, consider the 90 day limit, and now offer services, mixing medium and short lets to maintain occupancy and maximise income despite the circumstances.
Alternatively, you could look at corporate letting. Many firms in Central London seek accommodation for their employees from outside the city, providing it's clean, comfortable and properly managed. These contracts can last anywhere from a month to several years, offering a handsome compensation.
Should you wish to continue to let your properties out as an "entire place" for short-term lets, you must apply for a license (at an undisclosed cost) and planning permission from your local council. It might be tempting to flout the rules – some landlords relist their homes every 90 or advertise on multiple sites – it only takes one set of rowdy guests to upset your neighbours… and £20,000 is definitely going to eat into your profits.