Everyone wants to enjoy their Christmas holidays cosy and comfortable, especially in winter. Having said that, you want to make sure your guests are also as comfortable as possible while they spend their holidays in your property. So, we're here to let you know 5 ways you can provide that extra little bit of festivity and comfort for them and usually the makeover can be all done in one weekend!
1) Soft Furnishing
The number one way to make your home a little more cosy which is also can be cost-effective is soft furnishing. Such as, adding a couple of cushions to your couches or the bed. You can also throw some soft, fluffy throws over the bedding or even your sofas. Adding rugs can also make any living space look cosy, make sure they go with the theme of bedroom or living room to bring it all together.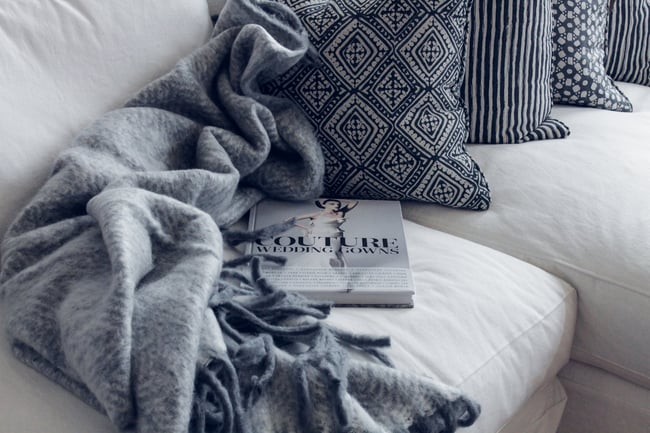 2) Lighting
Having lamps and fairy lights makes any area looks festive and pretty too. Of course, Christmas coming up, how can you not have fairy lights? Having lamps in the room will instantly give you different themes you're looking for, whether it's to dim a room or make it more dramatic. Obviously, the choice is up to you, but during the winter months, we suggest having a few dim lamps on the bedside tables or standing tall near your comfy sofas and armchairs.
3) Themes and Schemes
Having a dark colour scheme is perfect to fit the mood of the autumn/winter months. It's perfect to have a dark theme then have lights (that we've mentioned before) to add a little contrast. We've also heard having a dark room can also help you sleep better at night, a perfect way to make sure your guests have a peaceful nights rest!
4) Frames and Photos
Brick walls or just bare walls can make any living space seem cold and uncomfortable. You can change this by adding a few frames on your bare walls. Making sure they fit your theme, adding photos or paintings with warm colours can really give the room a warm feeling. However, don't add too much otherwise it'll make the room feel crowded and too busy.
5) Accessories
Having small little ornaments and pieces is a great way to create minimal interior to compliment your room and can bring it all together. With finishing touches such as candles to bring ambience into the room, especially if you don't want really want to spend money on extra lights, candles work just as well.
Also adding extra ornaments in the room can be a good way to fill spaces, for example a centrepiece on a dining table.
After all that décor in making your property as comfortable as possible for your guests, what's left? You want to make sure after all your hard work stays intact. That's where Pass The Keys come in, we'll manage your property without you having to. We will even add little things that'll make the stay for your guests even more comfortable, such as hotel style towels, toiletries and linens for guests, as guests do expect Airbnb hosts to have amenities, therefore you can maximise your property income.