Renting out your property is a fantastic way to earn extra income. And by turning your home into a short term letting through sites like Airbnb, you have the potential to make some serious revenue. Maybe even make new friends from around the world.
The positives are considerable!
But without an all-inclusive service like Pass the Keys to take care of the day-to-day Airbnb management, your side hustle could start to feel like a full-time job.
Here are some of the biggest hassles Airbnb hosts face and how holiday let management can save you a significant amount of time (and money!) in the long run.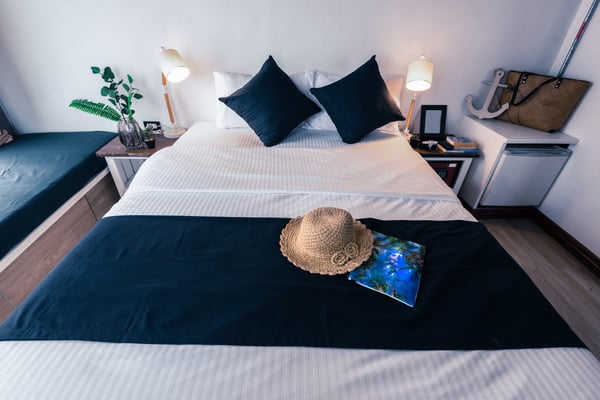 Guest Screening
One of the main reasons why private landlords stick to long term letting is because they don't like the idea of strangers flitting in and out of their home. Renting out your property as a short term let or holiday home for the first time would make anyone apprehensive.
That's why Pass the Keys take Airbnb management seriously and thoroughly vet each and every guest. All potential renters need to provide ID and past reviews, so you can have peace of mind about who is staying in your home.
24/7 Guest Communication
Even though you've clearly listed, in detail, all of the amenities that your property offers, you'll still receive messages at midnight asking about onsite parking and the nearest supermarket. It's definitely one of the biggest hassles of holiday home management and the most time-consuming!
Pass the Keys has a 24/7 support team that is always available to answer any query the guests may have. You don't need to sacrifice your time to earn extra income from short term letting - you can absolutely have both with the right Airbnb agent.
Key Exchange
Organising key exchanges can be a bit of a headache. Due to travel schedules, travellers can arrive at any time morning or night and someone needs to be there to greet them and hand over a key.
And let's not get into miscommunication and delays, which can happen a lot.
Having a key safe is invaluable to avoid all of these hassles. Pass the Key have key safes on every short term letting so it doesn't matter what time the guests need to check-in or if they are delayed.
Cleaning
No one loves cleaning, but Airbnb cleaning is a whole different beast. Frequently deep cleaning an entire property isn't fun, but it's necessary to ensure a home is maintained and guests have an enjoyable stay.
Pass the Key hires professional cleaners that take photographs of the property and upload them to an online portal. This is so you are always aware of the state of your property and can be sure your guests are staying in a cosy, clean home.
Laundry
Just like hostels, guests staying in Airbnb properties expect clean linen. Of course, it takes a lot of time to strip, wash and remake beds and refresh towels. Especially if you don't have all the appliances onsite!
The professional cleaners take care of all the linen and towels so you know your short term letting is meeting top hygiene standards. And, most importantly, your guests will continue to give your property excellent reviews.
Airbnb Management: Let Pass the Keys Handle Your Short Term Letting Hassles
Free up your time and enlist the help of an Airbnb management service to take care of your property. Without any of the hassles, you can rent out your property more frequently and reap the benefits.
Click the 'Get Started' button at the top of the page to find out how much you could be earning from your short term letting with Pass the Keys.